Mariners Prospect Update: Lazaro Montes is incredibly impressive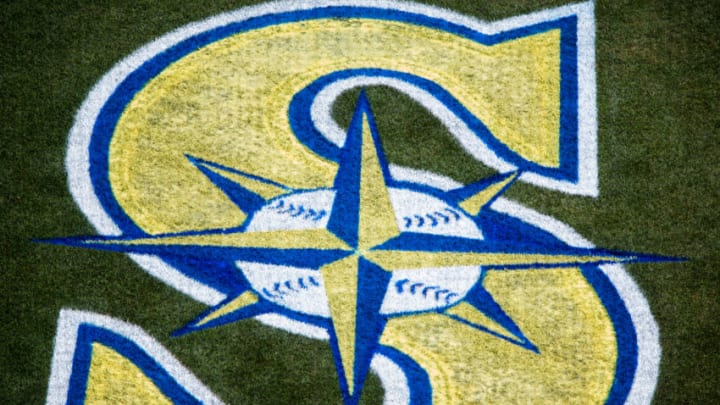 SEATTLE, WA - JULY 09: The Seattle Mariners' logo is painted in throwback colors for their Sunday day game against the Oakland Athletics at Safeco Field on July 9, 2017 in Seattle, Washington. The Seattle Mariners beat the Oakland Athletics 4-0. (Photo by Lindsey Wasson/Getty Images) /
Back during the International Draft, all the Mariners fans that were paying attention were instantly intrigued when it came out that the Mariners were going to be able to sign Lazaro Montes. They were able to get the top-10 ranked prospect for a couple million, and he jumped into the Mariners top prospect rankings, sitting in the mid-teens.
A monster of a teenager, Montes was listed at about 6'4″ and 210 lbs, he seems closer to a receiver than a plodding power-hitter. Think Jimmy Graham with the New Orleans Saints type build. That's what he is, essentially, an athletic Tight End. He just so happens to play baseball.
Lazaro Montes is impressing early for the Seattle Mariners
It's part of the reason that he is out in the outfield, with the ability, at least before he grows anymore, to play center field. For now, though, the Mariners have been playing him in the corners in the Dominican Summer League, seeing the majority of time in Right Field. He's done well, yet to register an error across 105 innings, with three assists in his time out there.
It's the bat that stands out though, and for good reason. Through 77 PA, he has a slash line of .312/.429/.689, with 5 2B, 3 3B, 4 HR, as well as 16 R and 16 RBI. He's definitely been over-aggressive, with a super high K rate of 36.3%. That's the big stat you want to watch over the next few years. If he can cut down on that, he has a real chance to show up in the bigs by the time he is 22 or so.
The comp that everyone has been mentioning for him is Yordan Alvarez. Part of the reason is that he has trained with him, and trained with the same group (pre-draft) that worked with Alvarez. It becomes a lot easier to make the comp when guys have worked together and with the same trainers.
The Mariners have been doing well in the International game over the last few years, and have brought in a lot of prospects that have a high potential ceiling, and seem to meet or increase it as they make their way through the system. The same is true for another guy that the Mariners recently drafted in Edwin Arroyo, although he was drafted in the Amateur draft in June, albeit from Arecibo Baseball Academy, which is why I mention him here.
It's early, and Lazaro Montes won't even turn 18 until October. With the mix of size, speed, and power that he is showing, Mariners fans should feel really good about what they have seen so far. As prospect rankings update over the next couple of years, it shouldn't be a surprise to see Montes pop into the top 100 in all of baseball, with the potential to get up into the top 10 if he reaches his ceiling.