Taylor Dollard is straight up dominating with Mariners AA Arkansas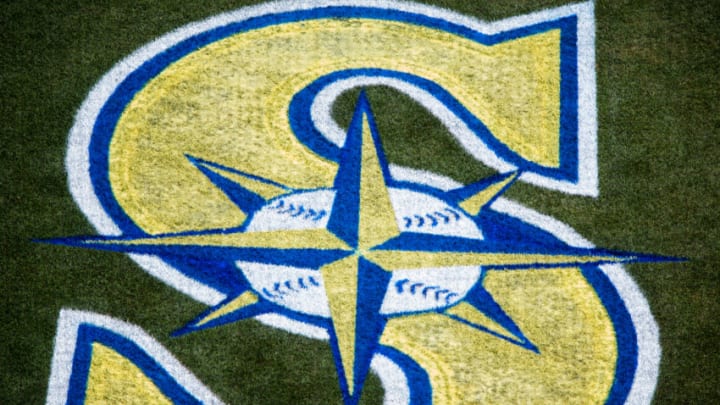 SEATTLE, WA - JULY 09: The Seattle Mariners' logo is painted in throwback colors for their Sunday day game against the Oakland Athletics at Safeco Field on July 9, 2017 in Seattle, Washington. The Seattle Mariners beat the Oakland Athletics 4-0. (Photo by Lindsey Wasson/Getty Images) /
Earlier this season I looked at one of the surprising hitters in the Mariners minor league system that is doing well, as Spencer Packard has been hitting great in Everett. Now, it's time to look at a pitcher that has been doing surprisingly well, with Taylor Dollard of the Mariners AA Arkansas Travelers.
You know what though? It shouldn't be all that surprising. With the attention that is brought to the Mariners top pitching prospects, some of the lesser-known guys get overlooked. Levi Stoudt isn't talked about enough, Adam Macko has insane stuff, and Michael Morales and Bryce Miller should be watched as well.
Most people probably don't know, but Taylor Dollard is actually the Mariners 14th ranked prospect. In a lot of farm systems, he would probably be sitting somewhere between fifth and ninth.
Pay attention to Taylor Dollard, as you may see him in a Mariners uniform in the near future.
I don't mean this year. That shouldn't be the expectation. As their fifth round pick in 2020, Dollard is still only 23-years-old.
Taylor Dollard has some incredible stats this year so far for the Arkansas Travelers. At the time of writing this, Dollard has started seven games for Arkansas, throwing 29.1 innings, striking out 31 with just seven walks, and given up only three runs. He has an ERA of 0.92, a WHIP of 0.92, and an OBA of .189.
So how has he been doing it?
He's got a fastball that gets into the mid 90s, and a nasty slider that sits in the high 70s to low 80s with a lot of break. He used those in combination to achieve one of the best starts of his career to date, going 7.1 innings, allowing just four hits and two walks, with one earned run.
The slider gets paired with a slower and more vertical curve, and he finishes off with a decent changeup. What it makes for is a four-pitch mix that he is comfortable with, although the slider is likely his best pitch. If he can keep the velo up throughout his starts, holding 92-94 into those later innings, he has the makings of staying a starter.
Dollard could end up being an intriguing option for the final spot in the Mariners rotation in late 2023, or even to start 2024. With the depth in the Mariners system, Dollard is definitely someone that we should all check in on every time he makes a start. His next start is set for May 24th against the Amarillo Sod Ponies.