Examining the Mariners pick in mock draft from MLB.com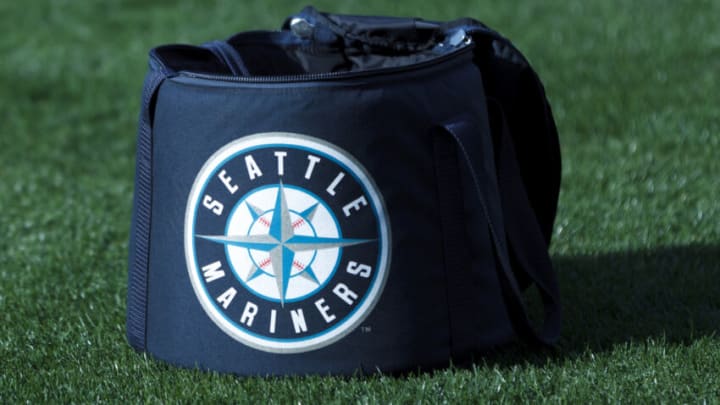 OAKLAND, CA - APRIL 03: Detailed view of a Seattle Mariners logo baseball bag on the field before the game against the Oakland Athletics at O.co Coliseum on April 3, 2014 in Oakland, California. The Oakland Athletics defeated the Seattle Mariners 3-2 in 12 innings. (Photo by Jason O. Watson/Getty Images) /
The MLB draft is about two months away, and it seems like a great time to start getting familiar with some of the players who could make their way to the Mariners. There are a couple of ways that we are going to go about doing this. One, is to write up some prospects that are rumored to fall to the Mariners. The second is to find mock drafts when they happen, talk a bit about how the player fell to the Mariners, and look at who they took.
It's that second one that I will be going with today, as MLB.com recently put together a mock draft. Callis, Mayo, Ratliff, and the rest of the guys at MLB Pipeline are incredible, and they are always one of the first places that you should look when you are trying to learn about prospects.
They had the Mariners taking SS Cole Young with the 21st pick in the 2022 draft
There are some other shortstops who are likely going to be in that area. If anything, it looks to be a situation where once one of them goes, a couple of others will shortly after. They've got Zach Neto going 16th, and Jett Williams going 22nd.
Young is a high school SS from North Alleghany HS in Pennsylvania. Ranked 18th on MLBs draft rankings, he is one of the guys who is hard to get a read on. He could go near the 10th pick, and he could fall down to the supplemental, according to Callis.
He doesn't seem like anything special from scouting reports, falling more into line with a "safe" pick. It's also interesting to see who his comp is, as the one you see is current Mariners second baseman, Adam Frazier.
Not outstanding at anything, Young is just good at everything. The hit tool is better than his power tool, and those are the only ones that fall outside of a 55 grade. Everything else is "better than average".
So, how does Young fall to the Mariners in this scenario? It's a run on pitchers that does it. Seven of the previous ten picks end up being pitchers, letting Young slide just a bit. This is a good note to remember for the draft this year. It's hitter heavy, as their mock has the top 10 picks all being hitters. Once pitchers start going, teams could start jumping at them to make sure they get an early impact arm.
If that's the case, we could be seeing two years in a row where the Mariners end up going with a prep bat, getting further away from the streak of three years in a row taking an RHP from college, when they went with Gilbert, Kirby, and Hancock. Remember, they took Harry Ford last year, the uber-athlete who is currently a catcher (with no plans to move).
Stay tuned for more on Cole Young as we get closer to the draft, and have a bit more research and information about him. He seems like a solid pickup, and two months out from the draft, would make for a "safe" pick to insert into the Mariners system for that next wave of talent in 4-5 years.