Getting to Know the Newest Mariners Prospect: Prelander Berroa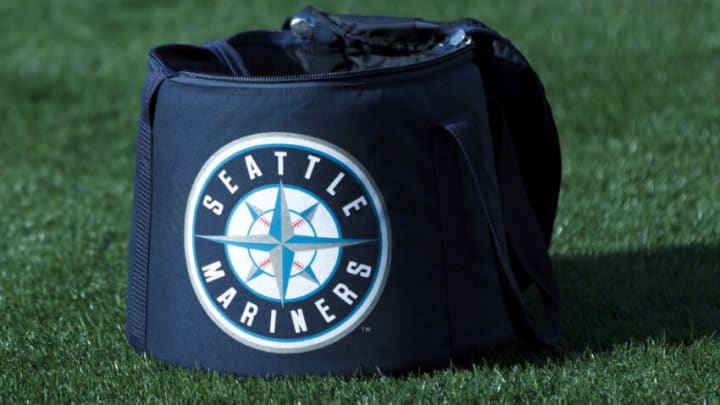 OAKLAND, CA - APRIL 03: Detailed view of a Seattle Mariners logo baseball bag on the field before the game against the Oakland Athletics at O.co Coliseum on April 3, 2014 in Oakland, California. The Oakland Athletics defeated the Seattle Mariners 3-2 in 12 innings. (Photo by Jason O. Watson/Getty Images) /
Just a few days ago, the Seattle Mariners swung a deal with the San Francisco Giants that would send utility man Donovan Walton to the Bay in exchange for young right hander Prelander Berroa.
When I saw this deal announced, to say I was surprised at the return would be an understatement. Donovan Walton is a loveable grinder that will always find a way onto rosters in a utility bench bat type of role, but despite this, I would not have imagined Walton being a piece that could return a prospect with the amount of upside Prelander Berroa has. He's far from a slam dunk, but Berroa could have a similar career trajectory to another young Mariners pitcher – Matt Brash.
Before I continue, it needs to be clear that Berroa is not Matt Brash. Brash burst onto the scene with electric stuff and a newfound ability to work around his walk problems. However, Brash is both older and much more refined than what Berroa currently is. That said, they both exhibit similar traits that lead me to believe they could have eerily similar paths to the majors.
Berroa's stuff is loud. With a mid-to-upper 90's fastball and a slider that falls off the table, he's more of a two-pitch pitcher that is also working in a flimsy changeup. Berroa's problem is command. He has a very hard time controlling his pitches, evidenced by his career 4.8 BB/9. Last season, Brash walked batters at a 4.4 BB/9 rate. Berroa struck out 12.3K/9; Brash was at 13.1K/9. It's not hard to squint and see similarities between the two young studs.
Ultimately, Berroa will need to throw more strikes in order to stay in a starting role. At only 22 years old, he will have plenty of time to develop in the Mariner system and accumulate the necessary skills in order to stick in the rotation. If not, a transition to the bullpen would allow his stuff to play up, where he could be a truly dominant pitcher at the backend of any bullpen.
I believe Berroa's 100th percentile ceiling is similar to that of Yordano Ventura, the late Kansas City Royal who tragically passed away far too young. They have similar arm actions and pitching arsenals, with Ventura being able to throw more strikes than Berroa.
Realistically, Prelander Berroa is a bullpen arm with serious weapons and the upside to close out games. For the cost, this trade has the potential to pay huge dividends for the future of the Seattle Mariners and should be seen as an absolute win.