SEAside Thoughts: Ray of Hope for Mariners in Week 5?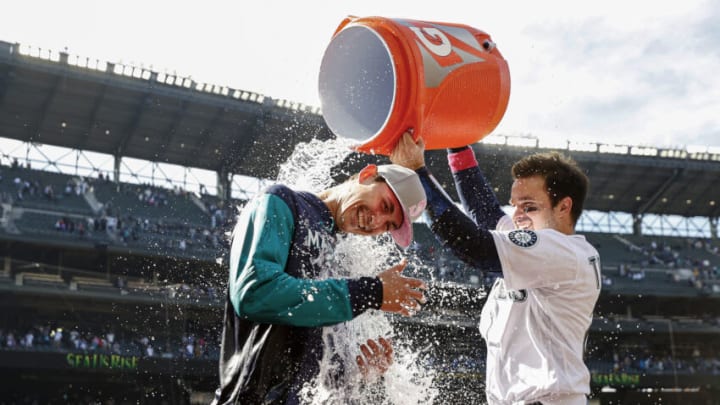 SEATTLE, WASHINGTON - MAY 08: Luis Torrens #22 douses George Kirby #68 of the Seattle Mariners with water after beating the Tampa Bay Rays 2-1 during the tenth inning at T-Mobile Park on May 08, 2022 in Seattle, Washington. (Photo by Steph Chambers/Getty Images) /
Mariners SEAside Thoughts: Week 5
"For whatever we lose (like a you or a me), it's always our self we find in the sea."
— E.E. Cummings, American Poet & Author
Hope all of you mothers had an amazing Mother's Day yesterday.
My wife and I just had our first child in January. Seeing my wife be such an amazing mother to our son is the most incredible feeling. We're lucky to have her.
Alright! Enough soft stuff. The season isn't over… This week sure felt like it though.
The offense, minus Friday night's home run derby, has been non-existent. Part of that is injury issues, and part of that is just too many non-competitive at-bats.
I'm not joking when I said the injuries are piling up. Haniger was already out. This week Tom Murphy and J.P Crawford, two of the hottest hitters in baseball's early season, suffered freak injuries, and who knows how long they'll be out.
On a positive injury note, 2020 AL Rookie of the Year Kyle Lewis is closing in on his long-awaited return. He's currently with Tacoma and…I think he's going to help!
A couple of days off seemed to really help Jarred Kelenic. After his monstrous pinch-hit home run in the 8th inning on Friday night, Kelenic got back into the lineup. Since Friday, Kelenic is 3 for 8 and has risen his average from .139 to .152. These are small victories, but they're still victories. It feels like some form of a breakthrough is nearing.
SEATTLE, WASHINGTON – MAY 06: Jarred Kelenic #10 of the Seattle Mariners celebrates after hitting a two-run home run against the Tampa Bay Rays to take a 6-5 lead during the eighth inning at T-Mobile Park on May 06, 2022 in Seattle, Washington. (Photo by Abbie Parr/Getty Images) /
Julio is better at stealing bases than anyone in baseball. What a pleasant surprise strength from a dude who's already one of the most exciting prospects in the game. When the offense gets healthy and rolling, his speed will become an ultimate weapon for Scott Servais.
I really hate what they're doing with Matt Brash. I think Brash's stuff is as good as anyone's in the organization. He's clearly young and wild. I have no problem sending him down to work on things. I absolutely can't stand changing him into a reliever. This is the type of decision that can impact his career, let alone his season. It's shortsighted and feels like something Jack Z would do, not Dipoto.
Kirby didn't get the win today, but he was the main reason Seattle even had a prayer today. Kirby didn't look overwhelmed by the moment. His stuff was impressive, and his command was impeccable. He stared down the best team in the American League the past two seasons and shut them out. It's early, but it looks like Seattle has another star to pair with Logan Gilbert.
Abraham Toro has been awful this season. There's no denying that. His home run today saved Seattle from one of its worst weeks of baseball in a long time. I'm happy he had this moment and I hope it propels him to where Servais and Dipoto view he can get to…I don't see it right now.
If Tampa intentionally walked the Left-handed hitter in Frazier to get to a right-handed bat, why not just intentionally walk the current hits leader in France? One run beats you, so the runner on second is meaningless. You would have had a force out at every base, and the right-handed rookie in Julio, followed by right-handed Suarez. I'd love someone to explain this one to me.
SEATTLE, WASHINGTON – MAY 08: Manager Scott Servais #9 congratulates Ty France #23 of the Seattle Mariners after France's walk-off home run during the tenth inning against the Tampa Bay Rays at T-Mobile Park on May 08, 2022 in Seattle, Washington. (Photo by Steph Chambers/Getty Images) /
The Mariners felt like they were at their lowest heading into the 9th inning on Sunday. Twenty minutes later, we're all celebrating like we just won our tenth game in a row. A little ray of hope can change everything. That's what makes baseball beautiful.
Seattle has played Tampa Bay and Houston a combined 13 games, for a record of 4-9. Those are the types of teams Seattle would face in a hypothetical playoff series. Health has played a factor, but there's definitely more work to be done.
The walls cracked, but they didn't cave in. This team is 13-16 and 5.5 games behind the Angels and 5 games behind the Astros. Considering how bad the M's have been and how good those two have been, I'm stoked to only be that far behind. Seattle has a big stretch of 13 games against playoff-caliber teams coming up. The road through May isn't getting any easier. Find a way to stay close to .500 and get healthy. There's light at the end of this tunnel, the Mariners just need to survive this storm.
This week's "Mariner Music Mojo" is scream! by Judah and the Lion. Go Mariners!