Mariners Minors in a Moment: Ford, Macko, and Perez Jr.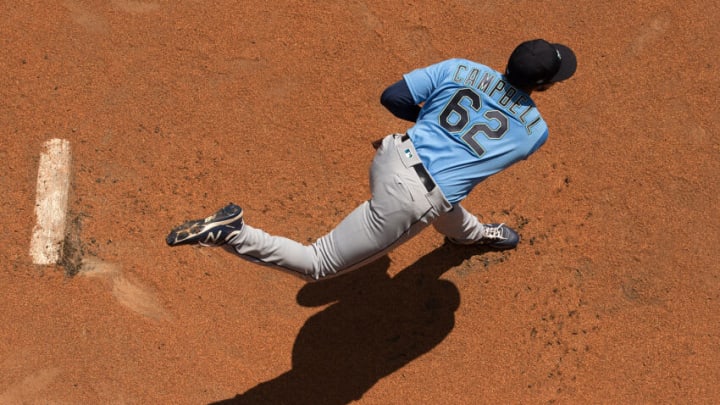 SEATTLE, WASHINGTON - JULY 12: Isaiah Campbell #62 of the Seattle Mariners warms up prior to an intrasquad game during summer workouts at T-Mobile Park on July 12, 2020 in Seattle, Washington. (Photo by Abbie Parr/Getty Images) /
Welcome back Mariners fans! This week was a marked turning point for the big league club as they took the home-opening series against the Astros and are currently looking to complete the sweep against the big-spending-low-winning Texas Rangers. That said, the minor leagues saw no shortage of action this week, with both top prospects and guys on the rise contributing in big ways. Without further adieu, let's dive right in!
Mariners A Team: Modesto Nuts
Harry Ford, a subject of last week's article, was in dire need of a bounce-back after a slow, yet encouraging, start. This past week showed just that. Ford saw his AVG increase over 150 points, his OBP increase over 100 points, and his SLG nearly quadruple. Now slashing a robust .263/.429/.395 with solid defense behind the plate, the 19-year-old first-rounder is only getting more comfortable at the plate and is starting to see the results we all expected to see out of him.
Switching over to a prospect with less pedigree than the top prospect Ford, Robert Perez Jr. has been absolutely mashing to begin the season. After seeing success at the plate for the Nuts last season, Perez has taken it to a new level.
After a three-homer game, Perez Jr. sports a gaudy slash line of .262/.347/.619. The young Venezuelan is proving to both the fans and the organization that a promotion to Everett is likely coming sooner rather than later. Look for the first baseman to continue his hot start and gain some more prospect accreditation in the Mariners organization.
Finally, I would like to highlight the unheralded Freuddy Batista. Perhaps my favorite sleeper prospect in the Mariners system, the 22-year-old catcher has tremendous power and has been posting some ridiculous exit velocities down in Modesto. Despite the hitter-friendly environment, Batista's slash line of .258/.410/.613 and an OPS of 1.023 is unimaginably good.
Just the other night, Batista mashed a homer with an exit velocity of 109mph, an excellent mark that would see success at any level. He is a bit of a "three true outcomes" player and strikes out quite a bit, but Batista is a ton of fun and is posting truly ridiculous numbers. Should he continue his torrid start, look for Batista to climb the ranks in the Mariners system and gain some acknowledgment for his ludicrous power tool.
Mariners A+ (High-A) Team: Everett Aquasox
Another week of Aquasox baseball, another week of stellar pitching performances. This week featured some shortcomings from the bullpen and a blown lead or two, but we don't talk about that. We talk about the absolute filth factory that is Adam Macko. Yes, I discussed Macko at length in last week's article. I just can't help myself.
With a final line of 5IP/2H/1ER/1BB/8K and another performance in tonight's matchup against the Tri-Cities, Macko continues to build on a stellar start to his season with his devastating stuff and vastly improved control. Macko is, without question, my favorite prospect to root for in all of baseball, and hope he continues to develop into the future frontline starter he can become.
UPDATE: As this article was being written, Macko pitched yet another gem, with a final line of 6IP/5H/2ER/0BB/10K. Not much other to say than "WOW!".
Believe it or not, there are actually other starters on the Aquasox! Good ones too! Let's start with Isaiah Campbell. The Comp B pick of 2019 behind George Kirby and Brandon Williamson, Campbell spent much of last season on the IL. Now that he's back in action, the former Arkansas Razorback is making noise and lots of it.
With 15IP logged over 3 starts, Campbell has a dominant 1.20 ERA with 15K's to just 7BBs. With a 3:1 K:BB ratio and a 1.05 ERA in his last two starts, it's clear Campbell is showing why the Mariners think of him so highly in their organization. A class act human being, it will be easy to root for Campbell when (not if) he makes his homecoming return to AA Arkansas sometime this season.
To round out the pitching side of the Aquasox, I want to shout out Bryce Miller and his performance so far. He's only logged one start to date, however, a final line of 5.2IP/4H/2ER/0BB/6K is nothing to scoff at. The 2021 fourth-rounder has already added some velocity to a good fastball and will look to move quickly through a Seattle system already teeming with pitching talent. He's definitely a guy to look for.
To wrap up the Everett squad, I had to take a look at 1B/OF Spencer Packard. The former Campbell Camel slugger was selected in the ninth round of last year's draft and has hit the ground running after a middling first year. The lefty is slashing .297/.395/.568 and has been the team's best hitter so far. With Noelvi Marte hitting a small bump in the road after a scorching hot start, Packard has been doing some heavy lifting for the Everett lineup. His advanced age for the level is a solid predictor that Packard will be pushing for a promotion by the early summer months.
Mariners AA Team: Arkansas Travelers
The Arkansas prospect buzz comes largely from a trio of highly ranked prospects. George Kirby is the most likely to get the bulk of the media attention, but both Levi Stoudt and Zach DeLoach have been performing at an elite level right alongside Kirby this season. Let's take a look into why these three players have been garnering the attention of national media outlets and prospect evaluators early this season.
OF Zach DeLoach was the Mariners second-round selection in the shortened 2020 draft and has remained steady as a borderline top-10 prospect within the system. After producing good-not-great numbers at the AA level last year, DeLoach returns to the level with a vengeance.
Posting a fantastic slash line of .343/.425/.514, the 23-year-old lefty may just play himself into the big league picture by the end of the season. With a plethora of options in the outfield at the big league level, it may be hard for DeLoach to break the roster. That said if he is able to maintain at a .300/.400/.500 level all season, the numbers would be hard to argue he isn't ready for the challenge.
On to the pitching! Levi Stoudt was the Mariners third-round selection in the 2019 draft. Immediately after being drafted, Stoudt learned he needed Tommy John surgery and was sidelined to start his career. An injury that easily could've derailed his career only acted as a building block for the young starter.
Now sitting in the mid-to-upper 90s with his fastball and a devastating changeup, Stoudt has played himself into a top 10 prospect in the organization and is backing up that lofty ranking with excellent production. Logging an 11:2 K:BB ratio over 11IP and a 2.45 ERA, Stoudt is another name to know that may force the organization's hand later this season. Should the M's need another arm down the line, Stoudt may be just the man for the job.
The staff ace and top pitching prospect in the Seattle organization, George Kirby has continued his reign of terror over AA hitters through the young season. Already racking up 20 K's through 14.2IP and a miniscule 1.23 ERA, Kirby was quoted to say that
""When everything is working and I'm throwing strikes, I kinda feel unstoppable, honestly.""
Fortunately for Kirby, he throws a whole lot of strikes. With just 3 BBs on the year and 18 BBs in his entire professional career, Kirby is the next young Mariner pitcher to help end the drought. Kirby will be making his debut at some point this year, how soon depends on how aggressive the Mariners want to be with the 24-year-old starter. Look to see him debut in late May or early June at the earliest and make an immediate impact for the big league ball club.
Mariners AAA Team: Tacoma Rainiers
The Tacoma Rainiers, unfortunately, do not feature much of anything in the way of prospect talent. Filled with journeymen and major league depth options, the team has been in dire straights after the early Taylor Trammell injury and player call-ups due to the COVID wave spreading through the Seattle major league team. While I won't go into much depth on the team, catcher Joe Odom, now back in the Seattle organization, is hitting the snot out of the ball and rocking a 1.030 OPS in the early goings of the season. Awesome numbers for the 30-year-old catcher.
Other than that, there's little else going on in the prospect scope. Congratulations to Penn Murfee on getting his first major league call-up! Whether he remains with the team after Sewald returns from the COVID IL is yet to be seen, however, the sidearmer is nasty and has one of the most entertaining personalities in baseball. I sure hope he is able to find a home on this roster and gets a chance to prove his stuff.
That's all for this week, folks! Thanks for reading and I'll see you all next week! GO M's!