Mariners vs White Sox: What awful weather in Chicago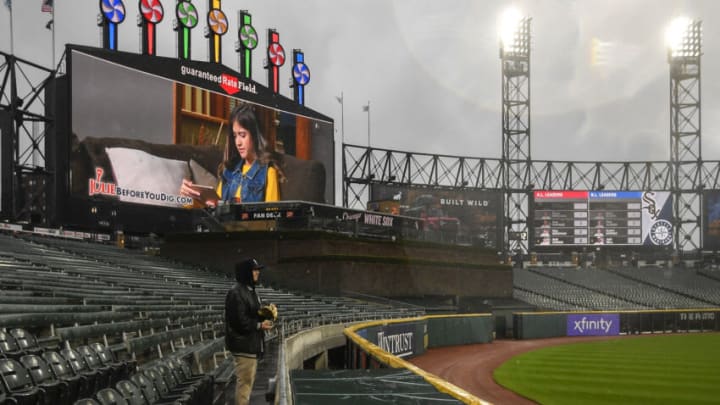 CHICAGO, ILLINOIS - APRIL 13: A fan waits in the rain before the game between the Chicago White Sox and the Seattle Mariners at Guaranteed Rate Field on April 13, 2022 in Chicago, Illinois. (Photo by Quinn Harris/Getty Images) /
The Mariners have finished up their series with the Chicago White Sox and will be heading home to Seattle for their home opener against the Houston Astros. It seems like a welcome trip for fans and players alike, as they finally are going to be able to get under a roof and play some real baseball.
Yeah, real baseball. What they had to deal with in Minnesota (cold, wind, snow) and then Chicago (insane wind and heavy rain) was ridiculous, and it isn't something that should be a part of baseball.
The Mariners played three games against the White Sox, and it was a different situation in every game. The opener was fine, and some kid named Matt Brash made his debut for the Mariners. The middle game had rain so heavy players couldn't hold onto the ball and there were actually puddles on the field WHILE THEY WERE PLAYING!
The Mariners are finally done playing in the disgusting Chicago weather
The second game was the one where Robbie Ray got lit up in the second inning, but I'm throwing that out. He shouldn't have been out there pitching, and no one should've even been playing. I understand that calling the game would've led to either a doubleheader or a single-day trip to make it up later on, but delaying the game for 45 minutes wouldn't have been that big of an ask.
If Chicago had a roof, it wouldn't have been an issue. The field would've been fine, and he could've actually held onto the ball while he was pitching instead of having to grab it later than normal because everything was so insanely wet that he couldn't hold the ball in his normal rhythm.
Then, the wind. Oh boy. It tried to derail a wonderful start by Logan Gilbert. HE gave up two infield pop-ups. Normal days, those are simple and easy outs. Instead, they turned into a double and an RBI single, because the ball was drifting all over the place and couldn't be caught. It's not like we have a bunch of wannabes out there either. Former Gold Glover JP Crawford couldn't even make one of the plays.
Gilbert was able to get out of it with just the one run given up, but it cut his day short. He ended up throwing a lot more pitches than would've otherwise been necessary, and was pulled after five innings. He's had a great start to the season so far, but it honestly should be even better if not for that wind.
Jesse Winker is probably really looking forward to getting out of Chicago as well. He hit a couple of bombs… well, they would've been bombs nearly anywhere else. Instead, they got caught up in the wind which was a menace to lefties, and turned into outs instead. When you hit a ball at 28 degrees with a 103 exit velo, it's supposed to go out. It had an xBA of .860… yet it was just an out.
He's not the only one who hit it hard. Kelenic RIPPED a shot down the line, traveling 114.0 mph off the bat with a 22 launch angle, and banged it off the foul pole for a home run. He nearly did it again in his next at-bat, but caught the net and was just foul instead.
We also saw Andres Munoz break the Mariners record (since 2015 and statcast, at least) for the hardest pitch thrown in a game. He hit 102.5 and 102.8! There is no doubt in my mind that, at some point this summer, he is going to be in a nice weather stadium and hit the mid-103s. The dude is the definition of a flamethrower, and it's amazing.
The Mariners ended up winning just one of three games there, but they didn't look bad at all. The offense started to pick up, and the pitching looks awesome. Things are looking up for the Mariners, and I'm still feeling good about this year. Go Mariners!