Ranking the Best Left Fielders in Seattle Mariners History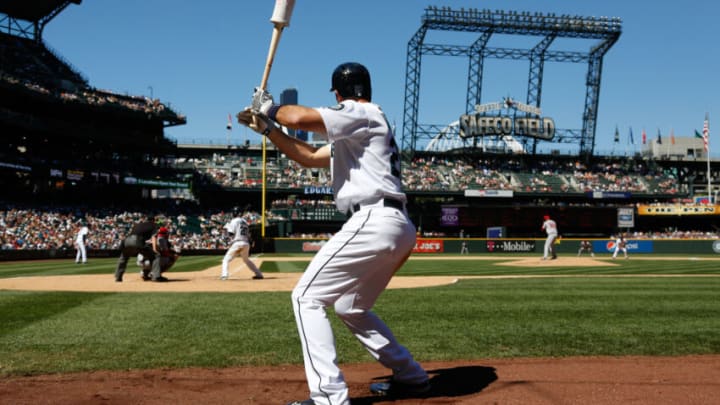 SEATTLE, WA - JULY 14: Raul Ibanez #28 of the Seattle Mariners waits to hit in the on-deck circle against the Los Angeles Angels of Anaheim at Safeco Field on July 14, 2013 in Seattle, Washington. (Photo by Otto Greule Jr/Getty Images) /
OAKLAND, CA – AUGUST 19: Raul Ibanez #28 of the Seattle Mariners hits an infield pop fly for an out against the Oakland Athletics during the seventh inning at O.co Coliseum on August 19, 2013 in Oakland, California. The Oakland Athletics defeated the Seattle Mariners 2-1. (Photo by Jason O. Watson/Getty Images) /
Mariners #1 LF: Raul Ibanez – 12.3 fWAR
Even though he was on-again-off-again with the Mariners, it feels like Ibanez is beloved by just about all Mariners fans. I can only imagine how nice it would've been if the team could've kept him around for his entire career. I know things don't always work out like that, but the Mariners could've had 19 seasons from Raul Ibanez if he never left. Could make for a fun "what-if" sometime…
Raul was always at his greatest whenever he was with the Mariners. Well, at least starting with his second stint with the team. Over his first five years in Seattle, he actually had a -0.8 fWAR. He would leave for KC and put up a 5.1 fWAR over three seasons. He then came to Seattle and put together quite the offensive run, with WRC+ marks of 117, 115, 121, 119, and 122. That's some nice consistency to have.
If not for an abysmal defensive season in 2007, Raul would've put up five straight 2.0+ fWAR seasons with the Mariners. His best year came prior in 2006, when he slashed .289/.353/.516, with 33 HR, 103 R, 123 RBI (both career-highs), and 33 2Bs. Raul was just a consistent producer at the plate, as you can tell by the WRC+ numbers. Over that five-year stretch, he hit .291/.354/.477, averaging 23 HR, 98 RBI, 85 R, and 35 2B.
Wouldn't that be nice to have once again?
Here's another way to show how consistent he was. If you take his WORST numbers possible, this is what the stat line would've looked like during that time frame. I'm taking out 2004 (the first season) because he only played 123 games, so it would skew the numbers and be a bit confusing if I tried increasing them to fit his average games played.
.280/.351/.436, 20 HR, 89 RBI, 80 R, 32 2B, 115 WRC+
That's what you get if you take all the WORST numbers. I'd still take that any day for our current outfield. Raul was a lot of fun to have, and fans loved having him on the team. It was even nice having him come back for a bit in 2013, just to see him one last time. OH! The 29 HR sure were nice as well.
Stay tuned for the next list when we move over to Center Field to check out the greatest CF in the history of the Mariners. We all know who #1 is going to be, but there are some other fun entrants on the list.