One Mariners Trade Proposal from each A.L. East Team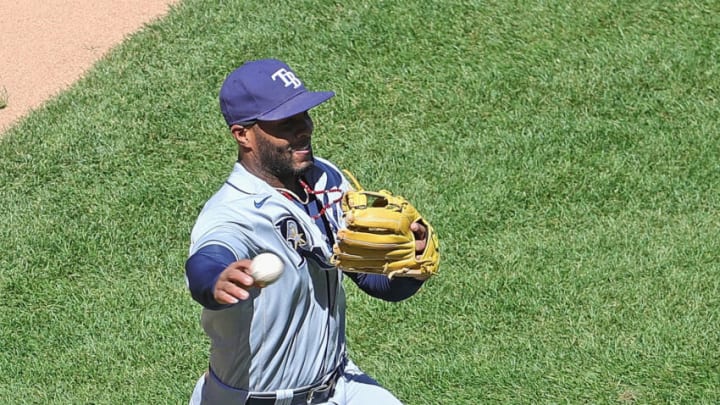 CHICAGO, ILLINOIS - JUNE 16: Yandy Diaz #2 of the Tampa Bay Rays commits a throwing error in the 5th inning on a bunt by Brian Goodwin of the Chicago White Sox at Guaranteed Rate Field on June 16, 2021 in Chicago, Illinois. (Photo by Jonathan Daniel/Getty Images) /
SEATTLE – JUNE 18: Yandy Diaz #2 of the Tampa Bay Rays bats during the game against the Seattle Mariners at T-Mobile Park on June 18, 2021 in Seattle, Washington. The Mariners defeated the Rays 5-1. (Photo by Rob Leiter/MLB Photos via Getty Images) /
Mariners Trade Target: Tampa Bay Rays – INF Yandy Diaz
The Mariners have been looking for a third baseman all offseason with the retirement of Kyle Seager. They have been linked to free agents Kris Bryant and Trevor Story, but if they miss out on one of those players, they will have to turn in another direction. Yandy Diaz is a name that no one has talked about yet, and he may not be the best option to fill third base this year, but he would certainly be intriguing.
Diaz is now entering arbitration and he will be more expensive than the rookies the Rays could use in his place. He is only expected to make about $2.5 million in 2022, but that is $2 million more than they would pay a prospect. Also the Rays have Curtis Mead coming at third base, as well as several other middle infield prospects.
Last year, Diaz started to transition away from third base a little bit. He played 58 games at third base and 81 at first base. This was in part because Joey Wendle got a lot of the action at third base for the Rays last year. Rays first baseman Ji-Man Choi also missed a lot of the season, so that also contributed to Diaz playing more first base. With Wendle now in Miami and Choi hopefully healthy for a full season, Diaz should be back at third base, and he would fit their for the Mariners.
A big reason that Diaz would fit in Seattle is because he controls the zone. He had a strikeout rate below 16% last year, well below league average(22%), and he walked 12.8% of the time which was in the top 10% of the league. He is a good average and on base hitter, slashing .256/.353/.387 last year in a career high 134 games. He was worth 1.8 WAR last year, and that is about where he is for his career. Trading for him would not cost a top 5 prospect, but good players.
In this trade proposal, the Rays would be getting Zach DeLoach, who is a top 15ish prospect for the Mariners and he is going to be pretty close to the big leagues. He probably is ready to make the leap to the bigs in 2023. Anthony Misiewicz is a left handed reliever for the Mariners, and he is someone who could go more than one inning for the Rays if he needed to. He used to be a starter in the minor leagues.
Finally Juan Then is coming off of a disappointing season last year, but the Rays would be a prime candidate to get more out of him. He probably is best suited for a reliever role, and the Rays can use him there. The Rays would do this deal because they have a lot of infielders on the way, and they would get depth for the future, and a possible swing pitcher for their roster this year.
The Mariners should not pursue Diaz as their first option at third base, but he may be a very interesting player if they miss out on Story or Bryant. He would make a very interesting tandem at third with Abraham Toro, with Diaz getting a large majority of the playing time. Next up is another third base possibility.