One Mariners Trade Proposal from each A.L. East Team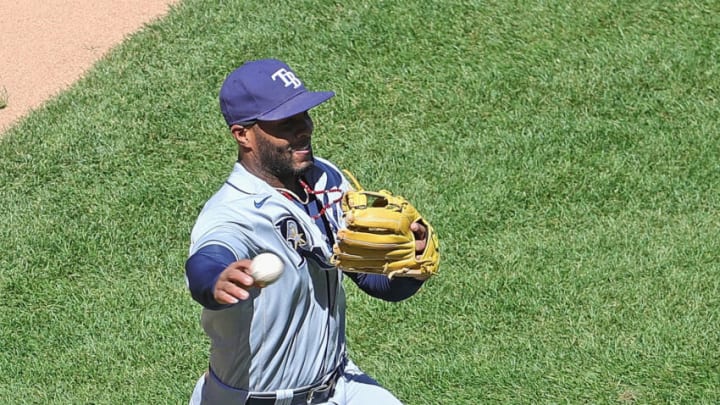 CHICAGO, ILLINOIS - JUNE 16: Yandy Diaz #2 of the Tampa Bay Rays commits a throwing error in the 5th inning on a bunt by Brian Goodwin of the Chicago White Sox at Guaranteed Rate Field on June 16, 2021 in Chicago, Illinois. (Photo by Jonathan Daniel/Getty Images) /
The Seattle Mariners are building one of the most talented young cores in baseball with players like Jarred Kelenic, Julio Rodriguez, Logan Gilbert, and George Kirby just to name a few. The list goes on and on, but the Mariners need to add to that young core with big-league talent. There are several ways that they can do that, and there will be 5 trade proposals with American League East teams to improve the Mariners utility depth, bullpen, and third base positions for 2022.
Mariners Trade Target: Baltimore Orioles – UT Jorge Mateo
BALTIMORE, MARYLAND – AUGUST 29: Jorge Mateo #26 of the Baltimore Orioles celebrates a home run during a baseball game against the Tampa Bay Rays at Oriole Park at Camden Yards on August 29, 2021 in Baltimore, Maryland. (Photo by Mitchell Layton/Getty Images) /
First up is Baltimore Orioles utility man Jorge Mateo. Mateo was once considered to be a top prospect for the Yankees. He was then sent to the A's in the Sonny Gray trade, then traded to the Padres before being claimed by the Orioles last season. His best tool is his speed. He is one of the fastest players in baseball, having the 5th fastest sprint speed last year among all players.
He has had some good seasons in the minors, and he hasn't been anything great in the minors, but he has been alright. He slashed .247/.293/.376 on the whole last season, but he struggled early on with the Padres. Looking at his numbers in Baltimore show some more promise, where he slashed .280/.328/.421 in 116 plate appearances. He had 23 more plate appearances in Baltimore, and he looked much better there than in San Diego.
Even though it was a fairly small sample size, Mateo was much better than Mariners utility man Dylan Moore last year. Moore slashed .181/.276/.334 in 377 plate appearances, so it would be a big upgrade if Mateo would play like he did in Baltimore consistently. Ideally however, the M's will not rely on their utility man to play in 126 games last year like Moore did, but rather come off the bench as a speed and defense player. He has tremendous base stealing ability as well.
This is why trading for Mateo would come in conjuncture with signing someone like Kris Bryant or Trevor Story because he would be a strict bench player with speed off the bench. Mateo played second base, shortstop, third base, left field, center field, and right field last year, so he has lots of positional versatility. He would not cost a lot either since he is projected as a bench player for the Orioles next year.
For the Orioles, trading for Justin Dunn would add to their rotation mix, which has a lot of lefties in it currently, and they can give Dunn the chance to start in the big leagues. He is not going to have that chance with the Mariners, but they could move him for a part time bench player in Mateo. The Orioles would probably be starting Dunn in their rotation and seeing if he can figure it out as a starter.
All in all, while Mateo isn't a great player, he would be a very interesting player for the Mariners because he is something they have never had before. They haven't had a true stolen base threat who actually gets a large amount of steals. He had 10 last year in limited playing time, so he has multiple years with 20 plus in the minors.