Mariners Fans: Get to Know Bainbridge Island Stud RHP Ian Ritchie Jr.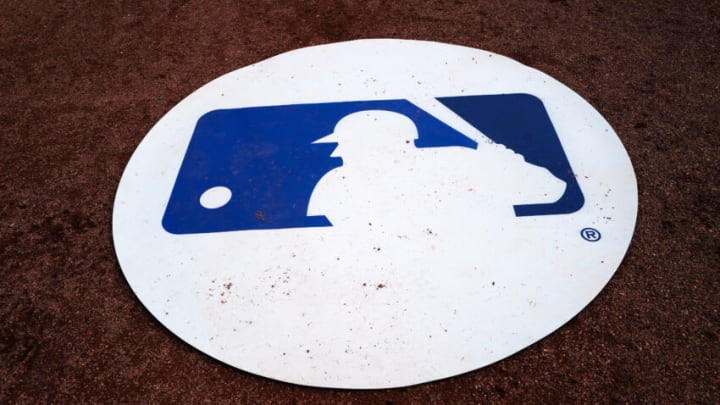 DUNEDIN, FLORIDA - FEBRUARY 27: MLB Logo on the batting mat during the spring training game between the Toronto Blue Jays and the Minnesota Twins at TD Ballpark on February 27, 2020 in Dunedin, Florida. (Photo by Mark Brown/Getty Images) /
Looking ahead to the 2022 MLB Draft, the Seattle Mariners hold the 21st overall pick, and they will have several good players to choose from. One of those players is a local kid, Ian Ritchie Jr., a right-handed pitcher from Bainbridge Island, Washington, who is one of the best players to come out of the Pacific Northwest in a long time. Prospects Live compared him to some of the best pitching prospects to come from Washington:
"He's a very good bet to start long-term and has the potential to be the best prep arm to come out of Washington since Blake Snell or Tim Lincecum. At this stage, most scouts have thrown a first round grade on Ritchie Jr."
Comparing Ian Ritchie to the likes of Snell and Lincecum shows just how great of a prospect Ritchie really is. The 18-year-old is listed at 6'2″ and 195 pounds, and looks to have the build and delivery of a prototypical right-handed starting pitcher. His mechanics are simple and smooth, and he has a very repeatable motion. His fastball has been up to 97 at times, and he could easily be a first round talent in this years draft.
https://twitter.com/JoeDoyleMiLB/status/1485502020928761859?s=20&t=MccNkIqWA_X3uS8SgnsWSA
Everything about Ian Ritchie shows that he has the body and skill set of a front line starting pitcher in the big leagues. He consistently has been in the mid 90s with his fastball, and has shown several other pitches. He has thrown a two seamer, changeup, slider, and a curveball along with his fastball. In an interview with Joe Doyle of Prospects Live, Ian Ritchie talked about wanting to develop three quality pitches: his four seam fastball, changeup, and slider.
His performances in high school and at showcases show that he has tremendous upside, and has him landing near the Mariners' 21st overall pick in some recent mock drafts; he was mocked 19th overall to the A's in the most recent Prospects Live mock draft. He could be someone that the Mariners have a chance to draft at 21 overall, plus the fact that he is from the area would be exciting.
Here is Ritchie in July of last year at the Perfect Game showcase in Tampa Bay:
Ian Ritchie Jr., who likes to go by his nickname, J.R., is a potential stud in the making and someone that the Mariners should strongly consider drafting. Mariners fans should get out to his games and his showcase events to see him pitch, since he is one of the best players from the PNW in the 2022 draft class.