Prospect Profile: Alberto Rodriguez added to 40-man roster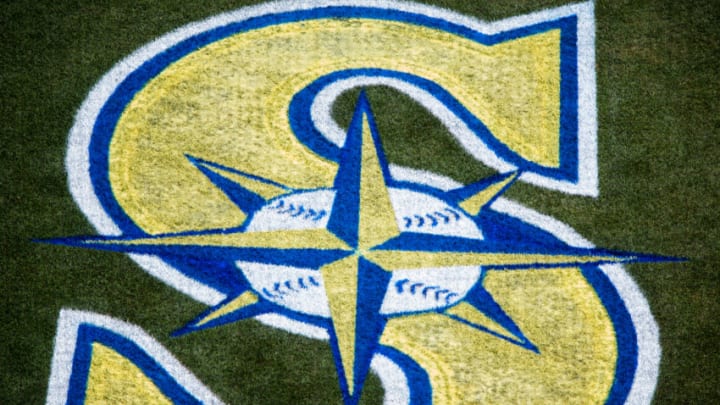 SEATTLE, WA - JULY 09: The Seattle Mariners' logo is painted in throwback colors for their Sunday day game against the Oakland Athletics at Safeco Field on July 9, 2017 in Seattle, Washington. The Seattle Mariners beat the Oakland Athletics 4-0. (Photo by Lindsey Wasson/Getty Images) /
The Seattle Mariners made a couple of moves earlier this week, and most fans were excited by the announcement that Julio Rodriguez had been added to the 40-man roster. However, it's the other Rodriguez, Alberto Rodriguez, that fans should be aware of.
The Julio announcement shouldn't be a surprise. Everyone was expecting him up at some point in 2022, and likely fairly early in the season. It would've been big news if he WASN'T on the 40-man. I want to talk about Alberto Rodriguez, and what it can mean for his future on the team, as well as the rest of the outfield.
Alberto Rodriguez could be the surprise answer as the team's fourth outfielder.
If you are one of the fans out there who are unaware of Alberto, don't feel too bad about it. He was actually a PTBNL in the Blue Jays trade when the Mariners sent Taijuan Walker there in 2020. He was a 19-year-old and has climbed the Mariners ranks since being acquired.
For those unfamiliar with the Mariners prospect rankings, they are either first or second overall, depending on where you look. Alberto Rodriguez just turned 21, and he is already their 21st ranked player. For most teams, he would likely be pushing the 10-14 range. That's a massive acquisition that they received for someone who would throw only 26.1 innings in Toronto.
The bigger idea that we need to talk about is Alberto's role in the organization. Being placed on the 40-man already is a big deal. Where does that put him in the big picture?
Mitch Haniger. Kelenic. Julio. Trammell. Fraley. Right there you have five guys who are expecting to play in the majors. Trammell has had a taste already and performed the worst out of them… but, he just turned 24 in September.
If the Mariners decide to move on from Trammell (who hopefully has a good frequent flier plan), they should still be able to get a decent return for him. He was a top 100 prospect for years and was still there at the beginning of the season. Alberto could be the replacement for Trammell in the pecking order for the outfield.
Going along with that, I think this is a good indication that the Mariners could be trading away one of their outfielders, if not two of them. A lot of fans have already been clamoring for the team to sign an outfielder with an impact bat (like Suzuki or Castellanos) which would cut down the need for the plethora of potential options that the Mariners have.
Check out his stats from A-ball in 2021. Remember, he turned 21 on October 6th, so he was 20 for the entirety of the season.
370 AB, 30 2B, 10 HR, 13 SB, 5 3B, .295/.383/.484.
Yeah, for a 20-year-old, that's dang impressive. The Mariners have shown a newfound willingness to push prospects along and move them if they show promise.
With Clase and Deloach waiting in the wings as well, the Mariners are getting closer and closer to a logjam. Alberto is climbing quickly, and personally, I think he is going to be an answer as soon as the beginning of 2023.