Mariners Prospect Update: Jonatan Clase has gotten jacked!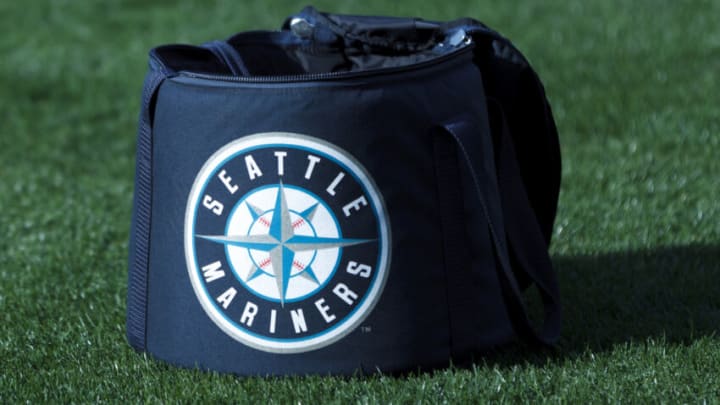 OAKLAND, CA - APRIL 03: Detailed view of a Seattle Mariners logo baseball bag on the field before the game against the Oakland Athletics at O.co Coliseum on April 3, 2014 in Oakland, California. The Oakland Athletics defeated the Seattle Mariners 3-2 in 12 innings. (Photo by Jason O. Watson/Getty Images) /
If you know anything about Jonatan Clase, it's likely that he's the young speedster in the Mariners farm system. I'm not saying that you would be wrong, but there is a lot more to him than just that.
We hear about guys that want to improve their game, that love baseball, that are always giving it their all. Guess what? Clase is right up there at the top of all those categories. Not only that, despite being a teenager, he's already quite the professional.
I actually talked with him earlier this year for an interview. He wants to put out a great product, and despite technical difficulties, still asked if we could re-do the interview since he wanted to ensure it turned out great. If you know Spanish and are interested in hearing it, here is the interview with Jonatan Clase from earlier this year.
Since then, he has grown by leaps and bounds. Literally and figuratively. When you think "fastest guy in the entire organization", you likely think of someone who is built like Billy Hamilton, Terrence Gore, or Dee Strange-Gordon. Uhhh. Think again, Mariners fans.
HE LOOKS LIKE A RUNNING BACK! Clase is jacked, and it's awesome. From all reports, the Mariners and their trainers have tons of programs that are focusing on all aspects of the body, not just the ones that take place on the field. Breathing techniques and positive thinking are a big part of it. I'm pretty positive that Clase is gonna provide some surprising pop the next time he steps on the field.
Jonatan Clase should be the Mariners prospect we all watch for
It's not just the size that he is trying to put on. Clase is also transitioning into a switch-hitter. The guy is only 19, and he's putting on muscle and learning how to hit from both sides of the plate. I think you're going to be hard-pressed to find someone his age putting in more work to become a better player.
If you aren't sure about his speed, check out his SB log from the short stint he played in 2021. 57 PA, 49 AB, 2 HR, 1 2B, 12 H, 6 BB, 1 HBP, 16-16 SB! That means that he was on first base 16 times. He stole 16 times. Imagine someone being so fast that they are given the green light to literally steal every single time they are on base… and then they do.
Don't be fooled looking at his height on baseball-reference either. There are rumblings that Clase is somewhere around 6′ instead of the 5'8″ listed. That's also a massive difference. There aren't many players that size who are able to hit for power. If this is the new and improved Clase, you could be looking at not just a speedster, but a certified incredible all-around athlete.
I've been big on Clase all season and actually picked him as my prediction to be the team's starting center fielder in 2024. If the progress from this offseason is any indication, it makes me feel quite good about my prediction.
The Mariners already have, arguably, the best farm system in baseball. Adding the 2021/2022 version of Clase should make fans all over feel even better. I can't wait to see what this guy has in store for us in the upcoming season.