A Mariners 3 Team Trade: Acquiring Adam Frazier and Willson Contreras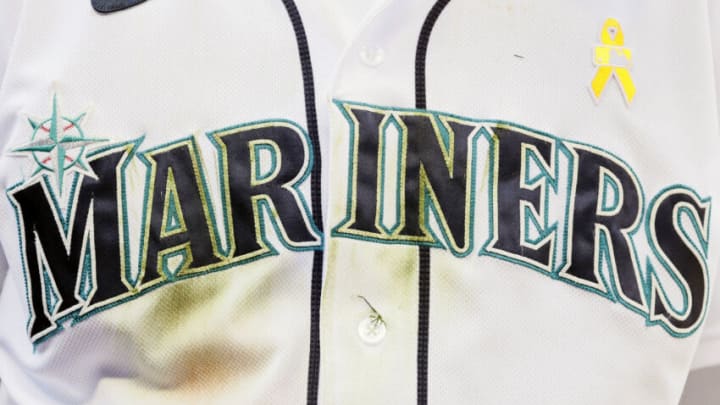 SEATTLE, WASHINGTON - SEPTEMBER 01: The jersey of J.P. Crawford #3 of the Seattle Mariners is seen on "Childhood Cancer Awareness Day" against the Houston Astros at T-Mobile Park on September 01, 2021 in Seattle, Washington. (Photo by Steph Chambers/Getty Images) /
The Mariners are going into the offseason with a few major needs. One of the biggest needs is to fix the offense. The Mariners had significantly below average play at second base in 2021 and need to improve the position. They played Dylan Moore and Abraham Toro there and together they only had about one good month of offensive production. There is a player out there that the Mariners almost traded for at the deadline that they could acquire again.
The Mariners also could use an upgrade at the catcher position, since Tom Murphy never hit very well and Cal Raleigh looked lost for almost his entire time in the big leagues. The Mariners could use an upgrade here so that they get a better offensive upside and production from the catcher position. Below is a big 3 team trade that benefits every party involved.
The Mariners get involved in a big 3 team deal
Cubs Perspective
The first thing that always comes up in a three-team trade is who says no. Let's start with the Cubs. The Cubs trade away Willson Contreras, Ian Happ, and Kyle Hendricks. These are all players that have value to teams that are trying to win now and could bring back prospects to the Cubs since they are starting to rebuild. They get back 2021 first-round pick Jackson Merrill as the headliner of the deal. Merrill gives the Cubs a future middle of the field player who is very young.
They also get Mariners outfield prospect Zach DeLoach who can be ready to join their major league outfield in a year or two. The Mariners also send Tom Murphy who can be either a place holder at catcher with 2 years of club control left or they could think Muphy can be a bounce-back candidate. Chicago also gets Reiss Knehr who made his debut this season for the Padres and can help replace Kyle Hendricks in the Cubs rotation or be a future bullpen piece.
While the Cubs give up multiple well know players, they also are selling off their pieces for prospects. Contreras has only one year left on his contract, Happ has two years left, and Hendricks is making a decent amount of money for an older pitcher. They would do well here with this return package for those three. The Cubs should not say no to this deal because they get much younger prospects and trade away the contract of Hendricks.
Mariners Perspective
For the Mariners, they get two players who can solve their problems at catcher and second base. Willson Contreras gives them a catcher for 2022, which they could also extend but are only trading for the one year. Also, they get Adam Frazier, who was rumored to be linked to the Mariners at the trade deadline but was traded to the Padres. The Padres, however, have a bit of an infield log jam and could trade Frazier to upgrade at other positions of greater need.
The Mariners are sending away DeLoach and Murphy to the Cubs and reliever Drew Steckenrider to the Padres. They get two good players in this deal, but they are only under contract for one more year. The Mariners should not say no to this deal because they get two positional upgrades and can have a much better year on offense in 2022 with these upgrades.
Adam Frazier is a really good slap hitter who doesn't always hit the ball hard, but he makes a ton of contact. He rarely strikes out and therefore doesn't walk a ton. He was a really solid player last year and would be a massive upgrade for Seattle. Willson Contreras is in many ways the opposite type of player offensively. He hits the ball hard, and strikes out a lot, and doesn't walk a ton. He was far better than Tom Murphy in 2021 and would be a good upgrade.
Padres Perspective
For the Padres, they have to capitalize on the window that they have now. They have to be better in 2022 with all of their stars. They traded for Adam Frazier at the deadline but had too many infielders as the season wound down. They send Frazier and prospects away for a bullpen upgrade in Steckenrider. They also get an upgrade in the outfield and rotation. Ian Happ can play in the outfield for them and would be a solid improvement for the Padres.
The Padres also get Kyle Hendricks, who has two years left at $14 million, and then a vesting option for 2024. This gives them a reliable starting pitcher who should be available more often than their other starters in 2021. They get three positional upgrades so they would not say no to this trade. They do send away their first-round pick from this year, but they need to win now.