Seattle Mariners: Making a Trade with the Colorado Rockies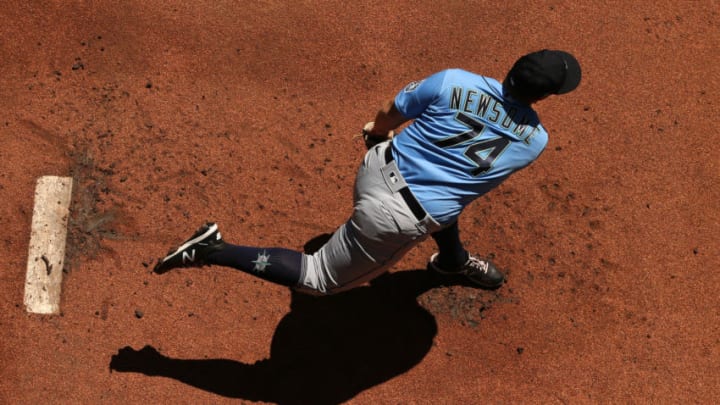 SEATTLE, WASHINGTON - JULY 13: Ljay Newsome of the Seattle Mariners warms up prior. (Photo by Abbie Parr/Getty Images) /
The Seattle Mariners had an outstanding year in 2021. Finishing with their first 90 win season since 2003, the Mariners find themselves approaching the most pivotal offseason in recent memory. With core pieces J.P. Crawford, Ty France, and Logan Gilbert already contributing to the major league ball club, the Mariners have a chance to make significant additions to the team in order to supplement an already stellar young core.
The Mariners will most likely be losing starting pitcher Tyler Anderson to free agency and need to find a replacement for the valuable innings he pitched for the team down the stretch. Enter the Colorado Rockies.
The Rockies are in between a rock and a hard place. With premiere talent Trevor Story slated to leave the team in free agency and little to no talent found elsewhere in their system, the Rockies should be looking to improve the upside of their organization and sell off some of their short-term assets. One of these assets I believe they should move on from is starting pitcher Kyle Freeland. Freeland, a former top draft pick, has not quite lived up to his lofty expectations coming out of the draft. However, to call Freeland a bust would be a disservice to the utility he provides to a big-league ball club.
Freeland has been exceptional at providing serviceable and consistent innings for his team. With two more years of club control on his contract, Freeland is not merely a rental either. Gaining two years of innings from a pitcher that will leave you in a position to both rest your bullpen and leave you within striking distance to win may not be the sexiest of pickups, but a necessary acquisition for any contending team.
That being said, here is a Mariners and Rockies trade that could work for both sides.
From the Rockies perspective, they are acquiring two young players with over a decade of combined club control. Newsome, coming off UCL surgery, had an excellent 2019 season at three different minor league levels. He can provide the Rockies with a young arm that can give them quality innings and can hopefully develop into a similar pitcher that Freeland currently is.
Additionally, they receive Kaden Polcovich, a young hitter drafted in the third round of the 2020 draft. Polcovich, a true super-utility player, can play just about anywhere on the diamond. After a superb stint at High-A Everett, Kaden was promoted to Double-A where he struggled mightily. The bat has some serious upside and his defensive versatility is a boon for the Rockies system that lacks depth at many positions.
From the Mariners perspective, the M's receive a pitcher that, at a minimum, is an arm that can reliably pitch quality innings every fifth night. Couple this with multiple years of control and Seattle has a positive asset for their club. However, despite him already having robust value, there is some upside to his game that may not be being fully utilized.
The Colorado Rockies are notoriously poor at developing pitching while the Mariners have been incredibly successful in recent years at extracting untapped potential from players. Freeland finished fourth in NL Cy Young voting back in 2018. He was the eighth overall draft pick for a reason. There is a real chance that Freeland has not yet been fully optimized, and the Mariners are just the team to do that.
At the very least, this trade provides both teams with intriguing assets that aid the direction that their teams are going in. Seattle trades for a starter that can eat innings and could have some untapped potential while the Rockies supplement their rebuild and gain some young talent to infuse into their system severely lacking in depth. It's truly a win-win scenario.