Mariners Report Cards: Grading the 2021 season for Yusei Kikuchi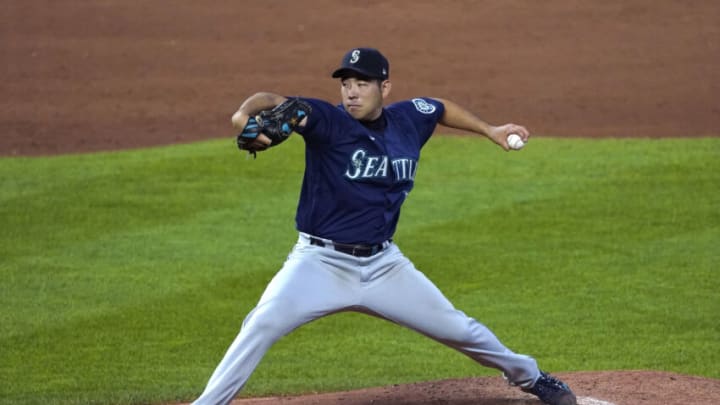 KANSAS CITY, MO - SEPTEMBER 18: Yusei Kikuchi #18 of the Seattle Mariners throws in the second inning against the Kansas City Royals at Kauffman Stadium on September 18, 2021 in Kansas City, Missouri. (Photo by Ed Zurga/Getty Images) /
Depending on what time of the season I asked you about your thoughts on Yusei Kikuchi, the answers would vary wildly. Maybe it would have been "All-Star worthy" or "dark horse Cy Young". It also could've been "what a bum" or "please stop pitching him."
It's an incredible range that Yusei Kikuchi was able to cover this season, and it's further affected by recency bias. With the season ending recently as well as the Mariners needing to decide on what they are going to do about his option (4 yr – $66 million), now seems like a good time to give his 2021 performance a grade.
It was a bad year, but Yusei Kikuchi still gets a better grade than you might think. I'll give him a C-.
"C- ?! Are you crazy?!" I can imagine many of you are thinking that right now. That I'm a moron for suggesting something that many would accept as a passing grade.
Let's not forget that Yusei Kikuchi was actually an All-Star this season, earning the Mariners lone addition to the game. Through his first 15 starts of the season, he was putting up some great numbers. Shoot, he was the one that was leading the staff, and a large part of the reason that the Mariners were above .500.
15 starts, 3.18 ERA, .195/.265/.353 BA/OBP/SLG against him, 93.1 IP (about 6-1/3 IP per start), 1.029 WHIP, 31 BB, 9K/9IP
Those are great numbers. The stretch from May 9th to July 1st was his peak, where he had a 2.59 ERA. He ended up not being active for the All-Star game. There was talk about a positive COVID test, but nothing concrete came out, and I'd prefer to avoid too much conjecture about it.
What we can see, for certain, was how he struggled after July 1st. He looked like a completely different pitcher. By the end of the season, he had gone from potential top of the rotation guy to someone who was no longer in the rotation.
14 starts, 6.22 ERA, .304/.385/.532 BA/OBP/SLG against him, 63.2 IP (about 4-1/2 innings per start), 1.744 WHIP, 31BB, 9.9K/9IP
Every single stat went up. Oddly enough, so did strikeouts. Not by much, but it's still the lone potential bright spot. He gave up just as many walks in those 14 final starts as he did in the first 15, but he gave up 15 more hits in nearly 30 fewer innings.
Think about his grade this way. Over that first half of the season, Yusei Kikuchi would get an A-. He still had a couple of nice starts in the second half, but he likely falls into F territory. They benched him at the end of the year, it's hard not to call that a failure. If his grade is a 90 in the first half and a 54 in the second half, that comes out to a 72.6, or C-.
When it comes down to it, Yusei had a better year than people want to think. That second half just sticks to mind though, so it left a bad taste in everyone's mouth. All we think of is the 6.22 ERA, not the 3.18 ERA. I'm not saying he had a good year by any means. Looking at the totality of it, Yusei Kikuchi still had a passable year with the Mariners, and earned that C-. Whether or not they should pick up his option, or if he should even pick up his, that's another story for another day.