Mariners Prospect Check-In: Harry Ford adapting nicely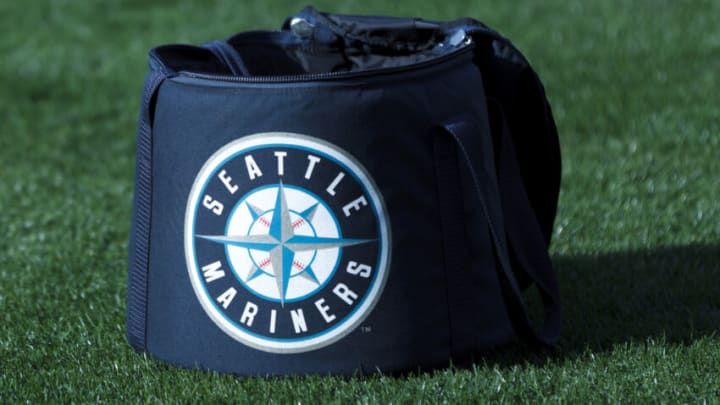 OAKLAND, CA - APRIL 03: Detailed view of a Seattle Mariners logo baseball bag on the field before the game against the Oakland Athletics at O.co Coliseum on April 3, 2014 in Oakland, California. The Oakland Athletics defeated the Seattle Mariners 3-2 in 12 innings. (Photo by Jason O. Watson/Getty Images) /
The Mariners were able to draft one of the most interesting players taken in this year's draft when they selected Harry Ford with their first-round pick. Currently a catcher, we've heard about his athletic ability and the potential to play other positions. He's gotten a handful of games under his belt at the Arizona complex league, and I wanted to check and see how he's been playing.
Just 18, he's already played 19 games in the ACL for the Mariners. It can be a big change, but it doesn't seem like it has stopped him from producing, showing the immense talent and ceiling that made so many fans excited when the Mariners took him at #12 in the draft.
Harry Ford has been playing exceptionally well so far this season for the Mariners ACL team.
Playing the majority of his time at catcher, Ford has shown a good arm behind the plate. He's thrown out three of eight runners. I know it's a small sample size, but pairing that with his 1.81 pop time (looking it up, the MLB average is 2.01), shows that he has a great arm. Take that pop time with a grain of salt, as it would easily be the best in baseball, and could be a bit of a skewed result. I'll still respect it though.
13 of his 19 games have been at catcher, with the rest at DH. It's nice to see the team letting him focus there this year, although we will definitely need to keep an eye out next season to see how they handle him.
It's the bat that has stood out to me when watching him. His K-rate is just 21.5%, with a walk rate of 13.8%. The MLB averages, respectively, are 23.4% and 8.3%. ACL is WAY below the MLB, but it's still nice to see that someone who is 18-1/2 years old isn't striking out too often, and is getting his fair share of walks.
Of his 16 hits, seven have been doubles and three have been home runs. This makes the next stat even more impressive. He already has three steals. Six singles and nine walks, and he's come up with three steals. That's an impressive rate for sure, and greatly improves his value as a baserunner. Not just for stealing bases, but with speed like that, he is a lot more likely to go 1st to 3rd, or score on a ball in the gap, as compared to your average catcher.
Overall, he's put together a great slash line through those 19 games. .291/400/.582. It's everything that we hoped we would be seeing and hearing from the first-round pick of the Mariners. Even as September (and the Mariners playoff hopes) draw to a close, it's a welcome thought to know that the team's crop of youngsters is continuing to impress… even more so with Harry Ford's name being added onto the list.