Luis Torrens comes through in the clutch for the walk-off win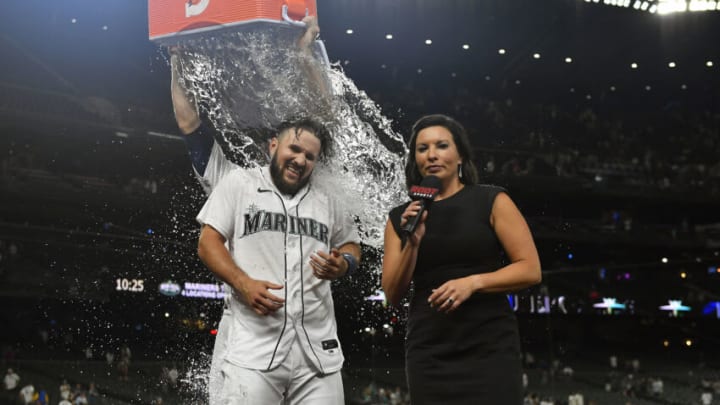 SEATTLE, WASHINGTON - AUGUST 11: Luis Torrens #22 of the Seattle Mariners gets a Gatorade shower after hitting a walk-off RBI single to win the game in the ninth inning against the Texas Rangers at T-Mobile Park on August 11, 2021 in Seattle, Washington. The Mariners won 2-1. (Photo by Alika Jenner/Getty Images) /
The Mariners have been playing in a ton of close games lately. That was no different in their most recent matchup with the Texas Rangers. Heading into the 9th at 1-1, it was looking like it would be their eighth straight game where the winning margin was either one run (four times) or two runs (three times). Luis Torrens was 1-2 feet away from breaking that cycle.
He knew the game was over the instant that he hit it, as he blasted a ball deep into center/right-center field. Texas's center fielder slowly jogged after it, knowing that it didn't matter if he caught it or not, and the speedy Kelenic ran home in celebration.
It gave the Mariners a 2-1 win, and Luis Torrens was the walk-off hero of the game.
The Mariners offense has been struggling as of late, as you can tell by the 2-1 score in the game. It goes further back than that though, as, during their last eight games, they have scored only 24 runs. 3.0 runs per game aren't going to get it done, regardless of how good you are playing otherwise.
Lost in the mix was another outing where Tyler Anderson went 5+ innings, making that 21-21 on the season. In every outing, he has gone at least five, while giving up three runs or less in 18 of them. Since joining the Mariners, he has thrown 15.2 innings and given up just six runs, for an ERA of 3.45.
Props go out to Jarred Kelenic as well for his performance, not just in this game, but over the last two weeks. In the 6th inning, he drew a bases-loaded walk to tie the game at 1-1 and then hit a leadoff double in the 9th. His average is up to .152, which sounds awful, right? It's actually a big positive, as he is hitting .267/.353/.533 over his last 12 games.
Kelenic isn't the only youngster who is playing well. Abraham Toro continued his hot play since joining the Mariners, going 2-3 with a BB, raising his average with the Mariners to .373 in 14 games. He's showing that he might truly be a part of this team going forward and has the potential to be a major player at that.
The rubber game in the series is this afternoon, with Marco Gonzales facing Mike Foltynewciez in a 1 PM game. The Mariners are riding high after the walk-off from Luis Torrens and will look to take the series from the Rangers before playing the Blue Jays in their next series.