My Mariners Dream Scenario at the MLB Trade Deadline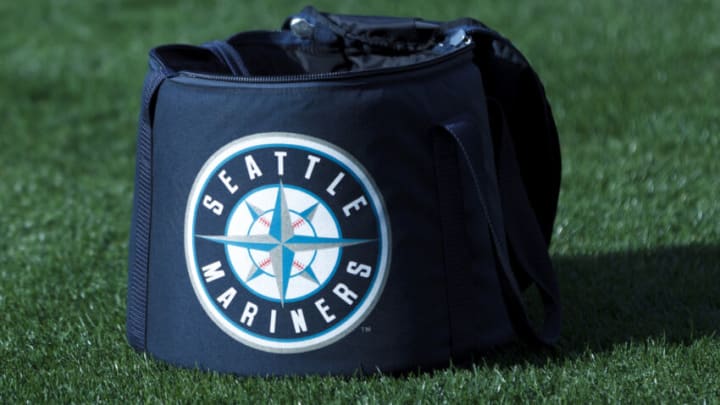 OAKLAND, CA - APRIL 03: Detailed view of a Seattle Mariners logo baseball bag on the field before the game against the Oakland Athletics at O.co Coliseum on April 3, 2014 in Oakland, California. The Oakland Athletics defeated the Seattle Mariners 3-2 in 12 innings. (Photo by Jason O. Watson/Getty Images) /
There are a ton of rumors going around with the Mariners. Starting Pitching. Hitters. A Second Baseman. Rentals. Long-Term Players. I've even written about a lot of the players that could be traded. However, I want to talk about what I actually want the Mariners to do at the trade deadline.
I understand that there are options out there, where the team could possibly trade for someone like Trae Turner or Jose Ramirez. I just don't think that Dipoto would either send out the necessary recompensation for those players or take on the salary with them. Like Trae Turner, you might have to take on Patrick Corbin's deal that pays him nearly 90 million through 2024. To get Ramirez, it's like Marte and Hancock, if not more.
So those guys are off my list. There are a couple of trades that I really want to happen still. With news that Tyler Anderson is being traded to the Phillies (snag/no/yes), he's off my list. There are still plenty of other pitchers out there though. One of them, Merrill Kelly from the Diamondbacks, could come over in a two-man deal along with Eduardo Escobar, which could shore up the second base spot.
Is either guy a stud, an ace, or an MVP candidate? No, they aren't. That's the point though. We would have to give up a lot if that were the case. Here, we likely wouldn't. Kelly is controlled through next year but is in his early 30s. Escobar will be a free agent after this season.
That's scenario one. Yup. That's it. Sending out someone like Taylor Trammell, Shed Long, and a mid-level prospect to Arizona for those two. If we get a second baseman, Long is going to be pushed out of playing time anyway.
There is more than one trade scenario I'd like for the Mariners.
Scenario Two involves trades with two different teams and getting a better player at both pitcher and second. At second, we make the trade that many fans are feening over, calling up Kansas City for Whit Merrifield. Merrifield has a great contract and is going to be a bit spendy. He's also under contract through 2023 and could be a wonderful hitter to place somewhere near the top of the order. Check his 162 game average over the last four seasons.
16 home runs, 35 stolen bases, .294/.346/.440, 98 runs, 41 doubles.
He rarely misses games, and is still fast, currently leading baseball with 25 SB. Outside of last year, his defense has always been slightly above average. A decent defender who can hit great? Yeah, sign me up. To get him though, we likely have to give up some good players. Say… Justus Sheffield, Taylor Trammell, and Connor Phillips. Possibly even another lower guy, like Kaden Polcovich. Guess what… I'm okay with that kind of trade-off.
Then, we call up the Nationals. Max Scherzer stated that he wants to play on the West Coast. With the Mariners showing they can be feisty, a true ace could do wonders for this team. The caveat here is that we would have to get Boras on the phone and make sure that they agree to an extension before signing the ink on the trade. 3-100 seems like a lot, but Scherzer doesn't seem to be slowing down. I'll take him through 2024, every time.
What would it cost to get him, though? Well, I think it might actually cost less than one would think. Remember, he's 36, an unrestricted free agent, and doesn't want to re-sign with the Nationals. Giving them some decent prospects, while staying away from our studs shouldn't be a problem. Brandon Williamson, Zach Deloach, and Tyler Keenan could get this done. Williamson is a promising lefty, Deloach could play outfield soon, and Keenan could compete with Kieboom at third.
The Mariners would get rid of a starting pitcher that they no longer have room for, an outfielder that is being pushed out by their ridiculous up-and-coming talent, their #8, 9, 11, 22, and 25 prospects. Does it sound like a lot? Yeah, it kind of does. For a multi-time all-star second baseman and a multi-time Cy Young award winner, I do it every time. Taking off the Mariners glasses, they seem reasonable for Kansas City and Washington as well.
The Mariners have gone after an ace before. It wasn't that long ago that they traded for Cliff Lee, and he pitched incredible well for them before being traded away.
If the Mariners could make moves like this, they would keep their core prospects together, and instantly have some multi-year pieces that could push their proposed win totals way up. The Mariners have a real chance to make some moves, get better in the short and long-term, and make a playoff push over the next few days. Let's go #Mariners.