Mariners Rumors: Trading with the Cubs for Kris Bryant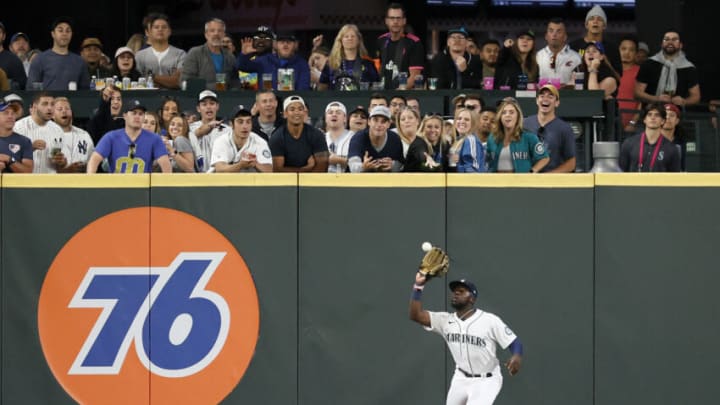 SEATTLE, WASHINGTON - JULY 07: Taylor Trammell #20 of the Seattle Mariners in action against the New York Yankees at T-Mobile Park on July 07, 2021 in Seattle, Washington. (Photo by Steph Chambers/Getty Images) /
SEATTLE, WASHINGTON – JULY 12: Austin Shenton #72 of the Seattle Mariners at bat in the second inning during an intrasquad game. (Photo by Abbie Parr/Getty Images) /
Mariners Trade 3: Sheffield, Phillips, and Shenton. I'm not sure I'm comfortable with this one
Alright, the sole reason I don't like this would be if we got rid of Austin Shenton. The dude rakes, and it's one of the better hit tools out there. Think Ty France. Plus, he is from the same county as me, so seeing a guy who played high school ball 20 minutes away on the pro team I root for would be incredible, if he does end up making it.
I said it earlier, but I would only be passably okay with this if we knew that Kris Bryant was going to sign long-term with the Mariners. Otherwise, NO!
They'd get a potential rotation stalwart in Sheffield. Remember, in 2016/17/18, he was ranked 78th, 80th, and 31st in the prospect world. The talent is there, he just needs to get healthy. The Cubs have found plenty of pitchers from other teams and seen them succeed, and Sheffield could be next.
We could send Connor Phillips as well, giving them a righty and lefty to one day use in their rotation. If they know that Bryant is going to leave (remember, he is still mad about the service time manipulation), then sending a couple of pitchers and a sweet bat would definitely get the job done.
What do you think? Should the Mariners even go after Kris Bryant? Personally, I don't want them to… unless they can convince the Cubbies to give him up for a paltry amount. Let us know your thoughts, and go #Mariners.