Mariners Potential Draft Profile: Sal Frelick – OF – Boston College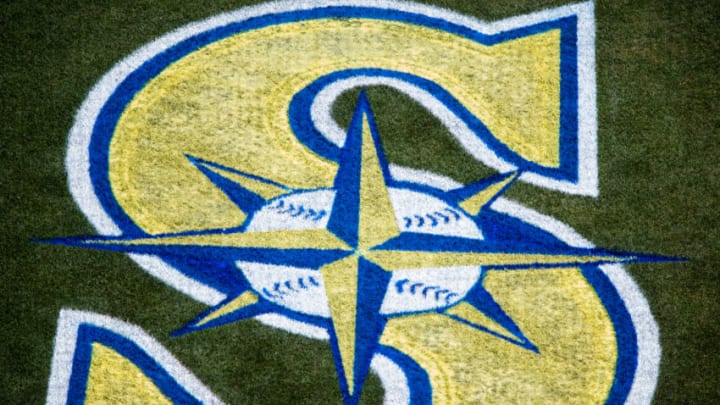 SEATTLE, WA - JULY 09: The Seattle Mariners' logo is painted in throwback colors for their Sunday day game against the Oakland Athletics at Safeco Field on July 9, 2017 in Seattle, Washington. The Seattle Mariners beat the Oakland Athletics 4-0. (Photo by Lindsey Wasson/Getty Images) /
As the 2021 draft approaches, there are a few outfielders that the Mariners could think about drafting. We already talked about Colton Cowser, but he isn't the only option that could be there at #12 for the M's. Sal Frelick could be selected if they want a true center fielder who has plus speed and a plus glove.
It took a while for Frelick to end up in center field, but it sure is a good thing that he did. After spending time at 2B, SS, 3B, LF, and RF, he played all 48 games in CF during the 2021 season. If you think that he might suffer a bit playing the most difficult outfield position, you'd be sorely mistaken.
If the Mariners took Sal Frelick at #12, they'd get a defensive player of the year.
That's right, Sal Frelick took home the ACC Defensive Player of the Year award in 2021. With just two errors and an impressive 22 assists, he showed that even though he is a small and quick guy, he still has a strong enough arm to be a force in the outfield. Frelick excelled as a three-sport athlete in high school, so his ability to learn quickly should surprise no one.
If this makes it sound like he is a tiny little guy that just slaps the ball around, that wouldn't quite be the case. In 228 plate appearances, he managed to hit six home runs on the season, which could easily translate to 10-15 a year at the MLB level as he continues to mature. That being said, power is his weakest tool, with just a 45 grade.
The arm is likely closer to that 55/60 number after all his assists this season, as the DPOY should be given an uptake to his arm and fielding grades.
The true value of Sal Frelick comes from his contact and his speed. He's a plus-plus runner at a 70 grade, which means he has near-elite speed/running ability. He won't be the fastest guy in baseball, but he's always going to be in the conversation for one of the fastest. This doesn't always translate to stolen bases, that's a different skill. But he's going to cover a lot of ground in the outfield.
Other than a slow sophomore season in college where he was hampered by an injury, Frelick has hit like crazy. In the Futures Collegiate Baseball League, he hit .377 in 265 plate appearances. In his freshman and junior year, he hit .362 in 408 plate appearances. He doesn't swing at everything though, with a 12% walk rate and a 10.8% K rate over that same time frame. He showcased an ability to get good pop on the ball too, hitting 17 2B's in his senior season.
It's always a fun exercise to try and find a player to compare prospects to. In Frelick, we are looking for a smaller, left-handed hitting outfielder, with great speed and a tiny bit of pop. Someone like 2016 Adam Eaton or Raimel Tapia with good defense. Eaton had a great 2016, with a .284/.362/.428 slash line, 14/14 HR/SB, 9 3B, and a 2.3 dWAR.
If the Mariners decide that they'd like a speedy centerfielder who could possibly win a gold glove someday, Frelick would be the guy to go with. He will likely be there at #12, so it all depends on what the Mariners are looking for when they make their pick in the first round.