Marco Gonzales set to return to the mound for the Mariners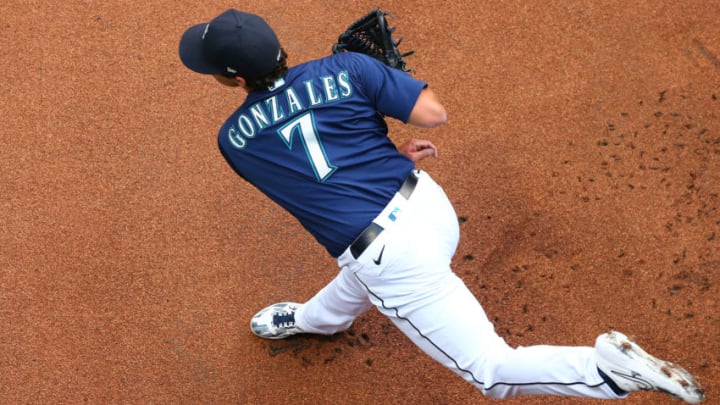 SEATTLE, WASHINGTON - SEPTEMBER 21: Marco Gonzales of the Seattle Mariners warms up before their game against the Astros. (Photo by Abbie Parr/Getty Images) /
The Seattle Mariners have dealt with a plethora of injuries to their team since the season began, placing over a dozen players on the IL. Fortunately, the team's ace is set to return, as Marco Gonzales is supposed to make his next start.
It comes at a great time for the Mariners. They just finished up a three-game series against Oakland, in which they lit up some punk who can't take a loss, before losing the finale in a game that the bullpen started. Servais could've gone away from the six-man rotation while Marco was hurt, but decided to keep it steady in order to keep the rest of the staff on their schedule and keep their innings down.
Marco Gonzales is coming back for the Mariners just in time.
Marco will be able to slide back into his spot when his next start comes up, which is supposed to happen on June 1st in a Tuesday night game against the Athletics. Don't expect him to come out and throw seven innings right away, as it sounds like he is going to be eased back into it a bit. Which is how he should be treated. There is no reason to rush him back, and throwing 4-5 innings is a great idea.
As of now, the rotation looks something like Flexen-Sheffield-Dunn-Kikuchi-Gilbert-Gonzales. Not in the order of talent or their true spot in the rotation, that's just the order in which they will be throwing in the next six games.
We all know that Marco wasn't pitching as well as we wanted him to throughout the start of the year. That was a bit skewed by the first two starts of the year. His third through fifth starts were more of the Marco that we would expect, as he went 18 innings, walked six, and gave up six. A 3.00 ERA is exactly what we should want from our ace, and is even better than expected. He did it against the O's, Dodgers, and Trash-stros too, so, they weren't exactly scrubs he was facing.
If the Mariners are going to make any sort of a push, this is the time of the year to do it. It all start with Marco Gonzales coming back, so tune in on Tuesday night this coming week to see him, and get a look at the Mariners rotation with six legit starters as we make our way through the second quarter of the season.