Yusei Kikuchi took out the trash in Houston in dominant performance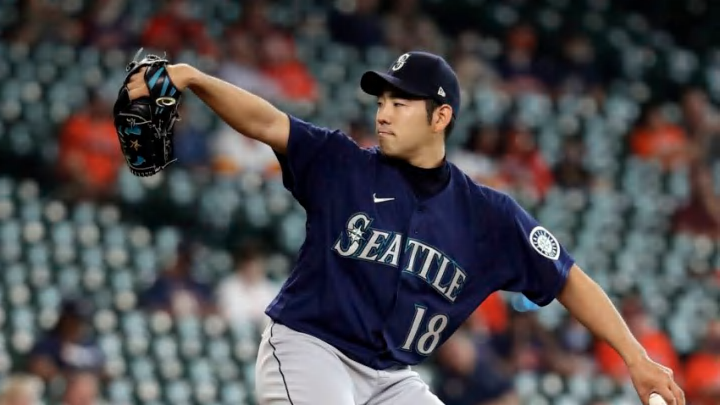 HOUSTON, TEXAS - APRIL 29: Yusei Kikuchi #18 of the Seattle Mariners pitches in the first inning against the Houston Astros at Minute Maid Park on April 29, 2021 in Houston, Texas. (Photo by Bob Levey/Getty Images) /
Yusei Kikuchi took the mound for the Seattle Mariners in the finale of the four-game series against the Houston Astros. Although it's still early in the season, there was a lot on the line for Seattle. This was only going to be their second series loss of the season, and they were looking to avoid a dreaded four-game sweep.
In need of a solid performance, Yusei Kikuchi went above and beyond. It wasn't that he delivered a great start, but that he threw his second-best performance ever as a Member of the Mariners. The top one was a CG shutout win against the Blue Jays when he gave up just two hits alongside eight strikeouts.
If you thought that Yusei Kikuchi looked unhittable for the majority of the game… it's because he was.
Through 6-1/3 innings, Kikuchi hadn't allowed a hit to a dangerous Astros lineup that looked much different than when they came to Seattle a few weeks ago. He would give up a double to Carlos Correa before making a fantastic defensive play, sliding towards home, spinning around, and firing a strike to first to get Yuli Gurriel out. He ended the 7th by inducing a groundout, finishing up his remarkable day.
It was exactly what the Mariners needed after hearing that the team ace, Marco Gonzales, would miss his next few starts with a forearm strain.
Kendall Graveman would work a scoreless 9th to earn his third save of the season, keeping his ERA at a spotless 0.00. Whoever taught him that power sinker, I sincerely thank you.
This wasn't a game for offense, as both the teams would combine for just five hits and three walks, with both pitchers effectively carving their way through the opposition's lineup.
Well, except for Trammell in the 4th inning.
It wasn't the only highlight that Trammell would have. With the game on the line in the 9th, two outs, and a runner on, Carlos Correa stepped to the plate. Could he find his second double of the game and tie the game at 1-1? Taylor Trammell hears the question and provides the answer in spectacular fashion.
It was an incredible game, with the Mariners earning a needed win to avoid the divisional four-game sweep against the Astros. Between Yusei dicing them up, his great defensive play, and Taylor Trammell's play with the bat and the glove, it made for a great afternoon for Seattle Mariners fans.