Mariners: Predicting MLB The Show Franchise Rankings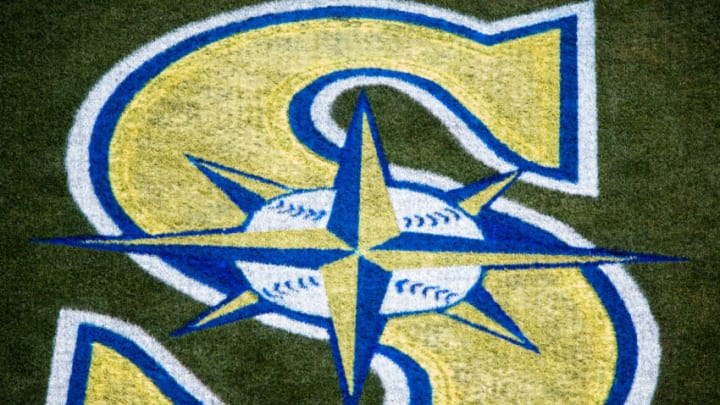 SEATTLE, WA - JULY 09: The Seattle Mariners' logo is painted in throwback colors for their Sunday day game against the Oakland Athletics at Safeco Field on July 9, 2017 in Seattle, Washington. The Seattle Mariners beat the Oakland Athletics 4-0. (Photo by Lindsey Wasson/Getty Images) /
When it comes to MLB the Show 21, there are two distinct modes that people play. Three, if you count Road to the Show, but when it comes to the rankings of players, there are the set of rankings you will see for Diamond Dynasty and the rankings for Franchise Mode. As the release date approaches, either on April 16th or April 20th, depending on the version you bought (the Jackie Robinson Deluxe is SICK!), it's time to look at the Seattle Mariners player rankings in Franchise mode.
I've already gone over the rankings that you will see in Diamond Dynasty mode, and there can be a big difference between the two. Take Alex Bregman, for example. In Diamond Dynasty last year, he was an 87. In Franchise mode, a 97. Diamond Dynasty rankings are always going to be lower, because not only do they leave room for change during the year, they also release legends who take up the higher rankings, understandably.
Should Bregman be a 97 in Franchise mode? Probably, trash can or not. Should he be down at 87 in Diamond Dynasty? Yeah, because players like Chipper Jones, George Brett, and Mike Schmidt take up the top spots.
In the Diamond Dynasty Rankings, I stuck with just the major league roster. There will still be some prospects in there, but they usually rate fairly low until the higher-rated future versions come out later on. For Franchise Mode, I've gone ahead and added the top ten prospects to the bottom of the list, because I know we are all dying to see what Sony San Diego does with Kelenic, Rodriguez, and the rest of the prospects for the Mariners.
There is one other thing to remember when looking at the Franchise mode rankings. There is more than just the number that goes along with it, as there is another that is just as important, if not more important. The potential grade. It's going to be a lot harder for an 84 with C potential to improve compared to a 77 with A potential. I think the Mariners, with their loaded system and young team, will have a lot of A/B potential guys.
There will likely be an update to rankings when you install the game, as they will already be 2-3 weeks into the season. I'll stick with original/preseason rankings.
Let's get to it. Here are the predictions for the Seattle Mariners player rankings in MLB the Show 21, Franchise Mode.
Rotation
Marco Gonzalez – 87
James Paxton – 81
Chris Flexen – 74
Justus Sheffield – 74
Yusei Kikuchi – 76
Justin Dunn – 68
Marco is a darn good pitcher, and his ranking in the Show this year is going to reflect that. He's a guy that you will want on your team regardless of how you build it, and just like real life, could lead the Mariners to the playoffs in the near future. Paxton just cracks the 80s, Dunn still sits in the 60s and probably should until he shows us a stronger sample size and the remaining trio slots in the mid-70s. If you're looking to replace any of them… check the prospects below.
Lineup
Tom Murphy – 79
Evan White – 76
Dylan Moore – 75
Kyle Seager – 81
J.P. Crawford – 78
Taylor Trammell – 70
Kyle Lewis – 83
Mitch Haniger – 78
Ty France – 74
The Mariners have good defense. They have speed. When it comes to hitting, well, that is up for discussion. Kyle Lewis just might be the highest-rated hitter on the team after winning ROY, and will likely have an A or B potential because of that. Seager is still great, but won't have a good potential ranking, and Haniger might fall in the same boat. France, Trammell, Moore, Crawford, and White may seem ranked low to some, but the high potential ranking should offset that.
Bench
Jose Marmolejos – 71
Luis Torrens – 69
Jake Fraley – 68
Sam Haggerty – 66
Marmolejos's power and contact are a big asset in Diamond Dynasty. Unfortunately, his rating actually might drop in Franchise due to the rest of his skills. A young backup catcher, an unknown utility, and an aging prospect round out the list, likely all with low potential ratings as well.
Bullpen
Will Vest – 64
Rafael Montero – 78
Keynan Middleton – 77
Kendall Graveman – 77
Nick Margevicius – 72
Casey Sadler – 68
Drew Streckenrider – 66
Vest sits at the bottom as a rule-5 guy, no surprise there. The bullpen isn't great (we all know that already), but there is a nice trio with Montero, Middleton, and Graveman. There always seems to be a big decision looming for your bullpen, and even rotation, when you first start a franchise. Keep the team together, or cut a bunch of the lower-ranked pitchers and sign free agents who are ranked higher.
The Top Prospects
Jarred Kelenic – 79 (A)
Julio Rodriguez – 75 (A)
Emerson Hancock – 74 (A)
Logan Gilbert – 77 (A)
George Kirby – 76 (A)
Noelvi Marte – 70 (A)
Cal Raleigh – 74 (B)
Juan Then – 73 (B)
Brandon Williamson – 70 (B)
Connor Phillips – 70 (B)
Not all of these guys are going to be ones that interest everyone, and I get that. What they do have though is a great mix of talented players that you can call up either in 2021 or 2022, or trade away to try and get the Mariners back to the playoffs for the first time since 2001. Personally, I'm excited to see if I can send out a combo or two of these guys to get some older front-line players, and then call up Gilbert, Julio, and Kelenic.
Julio might seem low, but he is young. With the A potential, they rank him lower on purpose so that he doesn't increase too fast. The same goes for Marte, who is only 19, and Hancock, who is the youngest of the pitching trio.
We will have more MLB the Show 21 content as the month goes on, releasing the actual ratings once they come out which will include their overall ranking in pitching, power, contact, speed, and fielding. A simulated season will also be a part of it. The actual season is here, and MLB the Show is just over a week away. Baseball is almost in full swing, and I love it.