What to expect when you head to a Mariners game at T-Mobile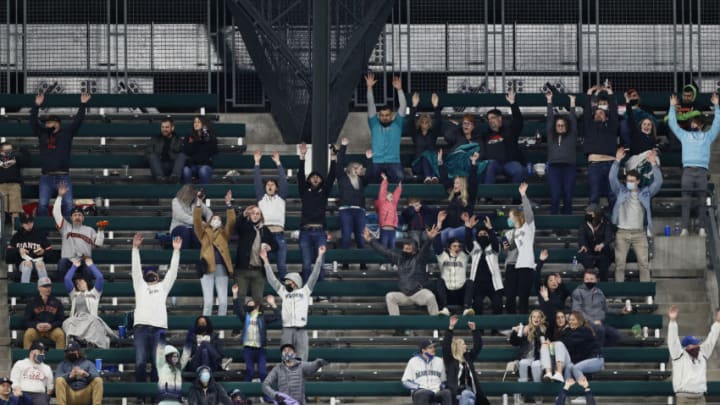 SEATTLE, WASHINGTON - APRIL 03: Fans do the wave during the game between the Seattle Mariners and the San Francisco Giants at T-Mobile Park on April 03, 2021 in Seattle, Washington. (Photo by Steph Chambers/Getty Images) /
Baseball is back. The Seattle Mariners finished up their opening homestand with a series win against the San Francisco Giants and will keep it going against the Chicago White Sox. If you are actually heading to a game, you need to be ready for a different experience than you would be used to in the past.
It's a totally different experience, feeling more like a mid-90s game at the Kingdome compared to a modern-day Mariners game.
First and foremost, there is no more extra early entry into the Pen area of the stadium. You used to be able to head back into the corner and get in there 30 minutes before the rest of the gates opened. Made for a nice way to watch some extra batting practice, and maybe get that extra happy hour beer. Sadly, it's no longer an option.
Neither are those happy hour beers. None of the stands in the Pen do happy hour anymore, and will not be doing it, at least for now, until the stadium is back to full capacity. You can still get some pretty good deals on them, at least for being in a stadium, and the best place is to head to the top level behind the third baseline and peruse the offerings up there.
You will have to wait until you get back to your seat before taking a drink or getting a bite of any food that you purchased. There are signs up about it, and you will get yelled at by staff for taking a drink anywhere other than your seat.
There aren't any places to stand and watch anymore like you used to do in the past. Whether it be above the bullpen, or in centerfield, or at any of the other railings around the stadium. They all have signs that say no standing here, and you get directed to your seat if you loiter.
It can be tough to keep kids entertained now as well. No mascot. No speed pitch. Stay out of the Mariners museum area. No games to play at all. It's pretty cut and dry at the stadium now. Get in. Get your food and drink, and go sit down.
Be careful in using the app as well, since there are no paper tickets anymore. Ours didn't "unlock" until about 90 minutes before the game, and that goes for the parking pass as well. Luckily, they let us in to park, but it could've made for a terrible experience if we had to drive around and wait for our ticket's barcode to actually show up.
Same goes for if we had been waiting in line to get in for any giveaways. I can't imagine the headache it would've caused. It's a warning to anyone out there to prepare a backup option if you get there early. You might not be able to get in on time, much less park.
All of that being said, I still loved being at the game. There isn't much better in life than being able to sit at a game with someone, and just enjoy baseball. Unfortunately, the ticket prices haven't changed to reflect the fact there is nothing else to do while you are there.
If you find yourself on the way to a game, don't worry about getting there super early. Take your time, enjoy your day, and you just need to be there by the first pitch. I'm not going to tell you not to go, but it might be worth waiting until later on in the Spring before you make the trek out there.