Mariners Fans Musings: Why do the M's constantly disappoint?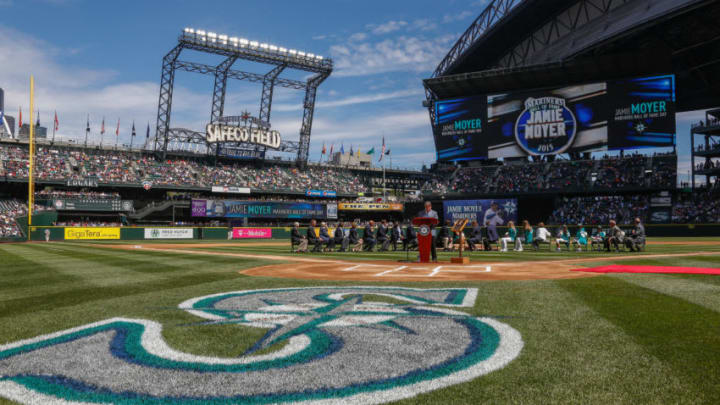 SEATTLE, WA - AUGUST 08: Seattle Mariners broadcaster Rick Rizzs speaks to the crowd during ceremonies inducting former pitcher Jamie Moyer into the Seattle Mariners' Hall of Fame prior to the game against the Texas Rangers at Safeco Field on August 8, 2015 in Seattle, Washington. (Photo by Otto Greule Jr/Getty Images) /
We continue our series to try and answer the biggest questions on the mind of the fans of the Seattle Mariners and land on a deeper question about the franchise as a whole.
Thus far, most the questions Mariners' fans have sent us have been about the current and future teams in the history of the Mariners. But today, we were asked to answer a question that is largely about the past. @STUNNER_YOU on Twitter would like an answer to this question:
I honestly don't know if Mr. STUNNER is asking a serious question or poking fun at the Mariners but we are going to answer this question. Now, I cannot speak towards anything that happened before Nintendo of America bought the team in 1992. I wasn't even alive for those eras, so I can't seriously cover them.
But when asking why the Mariners have been a continual disappointment for all but about 10 years of their 40+ year existence, the biggest reason has been the ownership group that was led by Howard Lincoln and Chuck Armstrong. While this is perhaps a cliche answer, the buck ultimately stops with the guys making the final decisions in the franchise.
The Mariners, under the direction of Nintendo, were notoriously cheap. They would pinch pennies and hamstring their general managers' ability to acquire players, such as when they refused to pay $3 million to acquire Juan Gonzalez in 2000 and forced GM's to sell good players they didn't want to pay, like Tino Martinez after the 1995 season.
Now, Nintendo would spend money. They were the ownership group that would eventually okay the signings of Robinson Cano, Nelson Cruz, and the extensions of Felix Hernandez and Kyle Seager. But in those situations, they were spending money to avoid losing more.
You see, the goal of Nintendo was not to win a world series at all costs. Their goal was to make a profit at all costs. So occasionally spending money on a few big names to keep the team competitive enough to draw you into the stadium was a business decision, not a baseball one.
So why are the Mariners perpetually disappointing? Because that is exactly where they wanted you to live. If they could get you to believe that they were just one piece away from sneaking into the playoffs, or just needed one rookie to break out to make a splash, they could keep your interest.
This quest for maximizing profits by limiting payroll in key areas was what prevented a true rebuild from taking place for nearly 30 years, which is why I think fans should give current owner John Stanton a serious go at this before you write him off as more of the same.
Stanton genuinely loves baseball and is the first owner Seattle has had who was willing to lose money over multiple seasons to win in the long run. The fact that Stanton is telling you to lower your standards and expect some rough years is exactly the reason you won't be disappointed for much longer.
Mediocrity is no longer the goal for the Mariners. They are in it to build a sustainable winner, something their predecessors only gave causal care in the world about.
So there you have it @STUNNER_YOU. The reason the Mariners always disappointed is that that was what the teams built in the Nintendo era were designed to do. Give you enough hope to keep your interest and after that, well to be blunt, they didn't give a damn. But Stanton seems to care, so remain optimistic about the franchise going forward.