MLB, Players Association share blame on MLB Draft impasse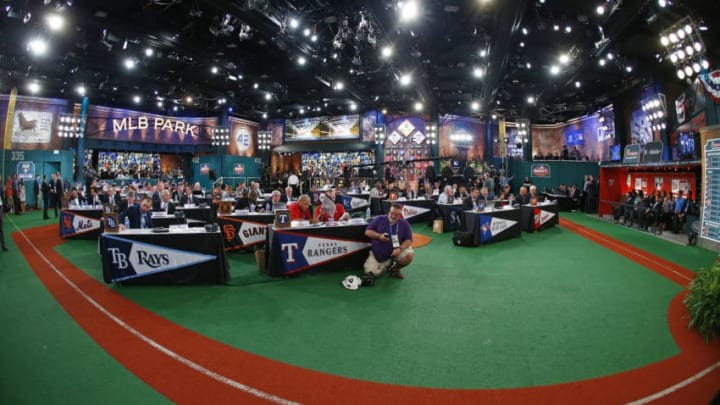 SECAUCUS, NJ - JUNE 5: Representatives from all 30 Major League Baseball teams fill Studio 42 during the MLB First-Year Player Draft at the MLB Network Studio on June 5, 2014 in Secacucus, New Jersey. (Photo by Rich Schultz/Getty Images) /
Major League Baseball and the MLBPA reached an agreement on how to proceed with the inevitably shortened season in regards to service time and salaries. But now the MLBPA and MLB are going to battle over the MLB Draft.
Back in the first round of negotiations, the players won their battle in regards to service time, basically preventing any player set to be a free agent after 2020 from not being allowed to test the free-agent market. But to get that from MLB, they had to throw a lot of things overboard, including shafting future members of the MLBPA, the amateurs who were set to be drafted this season.
To get their service time demand, the players agreed to allow MLB to cut it's draft down from 40 rounds to as few as 5 and agreed to limit all non-drafted players to a $20,000 signing bonus limit. In the even that MLB stuck with 5 rounds, this means that any player not selected who had any leverage whatsoever should and likely would go to school and try to re-enter the draft the following season.
It was recently reported by Ken Rosenthal and Evan Drellich that the league offered to expand the draft to 10 rounds, but wanted to limit the number of undrafted players who could sign for $20,000 to just five per team while allowing unlimited signings for bonuses less than $5,000.
The league also wanted to shave the slot bonus pool money of players drafted between Rounds 6-10 by 50%. The players have balked at this and if a deal is not reached, the original proposal of a 5 round draft followed by a $20,000 bonus max for undrafted free agents would proceed.
While the two sides battle this out, the people who are getting royally screwed by both parties are the amateurs. MLB is attempting to pay even less for talent than they already do and are specifically trying to save what amounts to just about $1 million each. For a game that generated $10.7 billion dollars in revenue, screwing hundreds of amateurs to save $30 million is a bad look.
But this doesn't mean that the MLBPA shouldn't be met with scorn too. Remember, the union bent over backward to collect their service time and was more than willing to throw these amateurs under the bus. And only now, they pretend they care about these amateurs when just 6 weeks ago they happily sold them down the river? Take that weak BS somewhere else.
At the end of the day, greed has thrown a huge grenade into what should be a massive day of celebration for the game, the players drafted, their friends and family, and the community in which they live. Both sides are guilty of the current impasse and both sides deserve their fair share of the shame that should be cast upon them.