Seattle Mariners MLB Draft Prospect Profile: J.T. Ginn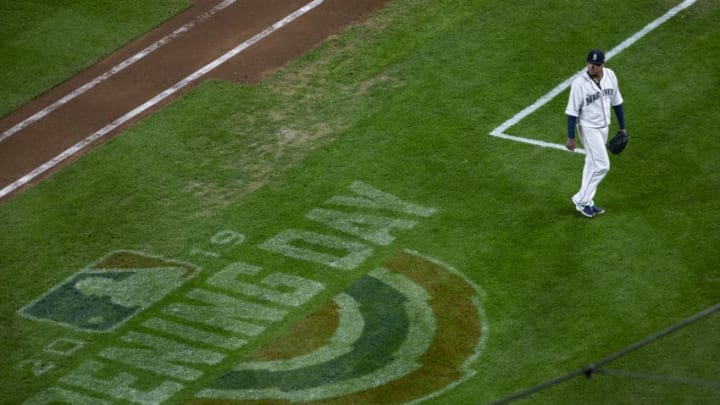 SEATTLE, WA - APRIL 01: Felix Hernadez #34 of the Seattle Mariners walks off the field after his first non-Opening Day start in 10 years during the sixth inning against the Los Angeles Angels of Anaheim at T-Mobile Park on April 1, 2019 in Seattle, Washington. (Photo by Lindsey Wasson/Getty Images) /
Whether or not the Mariners play a regular-season game this year, they will participate in the MLB Draft this summer. Could they gamble on a former first-round pick?
The Mariners hold the 6th, 43rd, 65th, and 79th picks in the first 4 rounds of the 2020 MLB Draft, which should allow them to continue to build on top of an already impressive farm system. While we have spent a great deal of time talking about the prospects who could be in play at number 6, the simple truth is that there are only so many players who will be options at that pick.
While 6th may be the most important selection, that doesn't mean that you should ignore the 4 selections the Mariners have inside the top 100 picks. So today, we take a look at a player who could be available at 43, Mississippi State RHP J.T. Ginn.
If the name J.T. Ginn sounds familiar, you may remember that he was a first-round pick of the Los Angeles Dodgers in 2018. But Ginn's bonus demand was too rich for the Dodgers so Ginn packed up and went to pitch in the SEC.
Ginn had a fantastic freshman season at Mississippi State, making 16 starts covering 80 innings while striking out 103 batters and walking just 18. Unfortunately for Ginn, he made just one start this season before going on the shelf with Tommy John surgery.
Before he went under the knife, Ginn featured a plus fastball that sits 93-95 and touched 97 with life up in the zone. His slider was a true separator as a freshman that sat in the mid-80s with a 2-plane break. Even Ginn's third pitch, a changeup, is solid-average with the speed difference and tilt, giving him 3 legitimate MLB offerings as an 18-year-old.
Ginn's stuff is amongst the best in the draft and he has average command and control to back it up. But there were concerns amongst scouts that Ginn's delivery was too busy. He made some tweaks for the Bulldogs, but there was still effort in his delivery, leading to questions about Ginn's durability. And now that he has already had one major surgery, those concerns aren't likely going to subside.
Ginn is a draft-eligible sophomore, so he very well could return to school next year and re-enter the draft in 2021 if he doesn't want to sign. But heading back to college is a double-edged sword. He could improve his value if he returns healthy but any setback or poor performance will damage his stock further.
Ginn could still go in the Top 25 and hoping he falls to 43 may be a pipe dream for the Mariners. One thing the Mariners and Jerry Dipoto may consider would be selecting Ginn at 6 with an agreement between both parties to take a serious discount off the bonus, allowing Ginn to make more money than he would as a late-first round pick, while giving Seattle more flexibility with their bonus pool money.
 Listen to "All-Dipoto Transaction Teams Draft" on Spreaker.
That would be a risky proposition for Seattle. But the Mariners may be able to come to an agreement with Ginn on a number he would sign for and hope that he falls in their lap at 43 and pay him over slot value. Because they have the extra draft pick, they could swing it if they wish. They could also save money at 6 by taking somebody like Reid Detmer and use the savings to sign Ginn.
Ginn is exactly the type of pitcher the Mariners should be targeting and there is a chance, though perhaps slim, that they can land him in the second round. If Ginn was healthy, he would be competing with Logan Gilbert as the best pitching prospect in the system.
Ginn is going to be a name to watch on draft day. He could go inside the Top 10 or he could go undrafted if teams are convinced he will return to college. But he is talented and adding talent to your organization is never a bad thing.