Trade Retrospective: How the Mariners lost Juan Gonzalez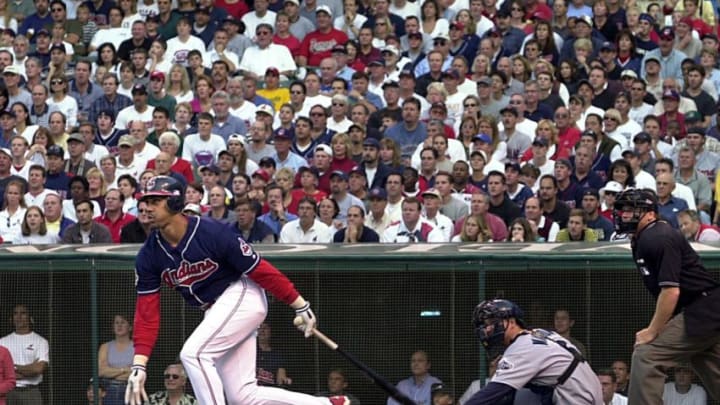 Cleveland Indians right fielder Juan Gonzalez (L), Seattle Mariners catcher Dan Wilson (C) and home plate umpire Paul Schrieber (R) watch Gonzalez' lead-off home run off of Seattle Mariners pitcher Paul Abbott during the third inning of the American League Division Series playoff game on 13 October 2001 at Jacobs Field in Cleveland, OH. Cleveland defeated Seattle 17-2. AFP PHOTO/David MAXWELL (Photo by DAVID MAXWELL / AFP) (Photo by DAVID MAXWELL/AFP via Getty Images) /
We spend a lot of time on this website talking about the trades the Mariners have made and the ones they should make. But oftentimes, it is more fascinating to think about trades that almost happened.
When you cover a team that has made over 100 trades the past 4 years, you aren't exactly strapped for trade content. The Mariners and GM Jerry Dipoto have been very good to us in that way. But we don't hear about most of the trades that are discussed. For the 100 or so trades Dipoto has made, there have likely been more than 500 discussed with varying degrees of likeliness.
But for this writer, I have always been fascinated by the deals that were discussed that never got done. I read through the chapter "The Trade Desk" in Michael Lewis' Moneyball every month or so. I am just fascinated by those types of things (side note, if you want to make a million dollars, write a book about the trades that got close but didn't come to pass).
So now that we have some time off from the daily grind of baseball and the many transactions of Dipoto, it feels like the right time to discuss a few Mariners deals that nearly came to fruition but didn't quite get there. So today, let's tell the story of the time the Mariners almost traded for outfielder Juan Gonzalez.
The year is 2000. The Mariners, who have already watched Randy Johnson and Ken Griffey Jr. leave, have rebounded from the disasters of the 1998 and 1999 season and are making a hard run towards a playoff spot. After a decent April and May, Seattle has used a 19-8 month of June to climb into first place.
The Mariners lineup is loaded and includes future Hall of Fame talents like Alex Rodriguez, Edgar Martinez, and a newly signed leadoff man named Rickey Henderson. On top of their HOF trio, Seattle rounds out their offense with the likes of John Olerud, Mike Cameron, and a hobbled, but still productive Jay Buhner.
With Rodriguez set to test free agency, and Martinez, Buhner, and Henderson playing the last few holes of their career, Mariners GM Pat Gillick sets out to add another big piece to help put his veteran squad over the top. You see, as good as the offense is, the pitching staff has struggled. But unable to find help for his staff, Gillick has a different idea: let's add to our strength.
Gillick calls the Detroit Tigers and strikes up a dialogue with a team that will ultimately fail to finish .500 and ask about their pending free agent outfielder, Juan Gonzalez. Gonzalez is as accomplished as they come, having 2 M.V.P.'s under his belt and a handful of Silver Slugger awards.
Gonzalez will test free agency after the 2000 season and he is unlikely to re-sign with the Tigers. He also has been out for most of July and "struggled" struggled in the first half of the season, slashing just .274/.323/.511. So, the Mariners may actually be able to get a good deal.
Eventually, after some back and forth, the two sides settle on a deal. The Tigers will send Gonzalez and the remainder of his $3 million salary to the Mariners for a PTBNL and a young RHP named Joel Pineiro.
Gillick would take his deal to Howard Lincoln for final approval and Juan Gonzalez would soon be a Mariner. But hold the phone, because Mariners ownership refused to pay the $3 million owed to Gonzalez, insisting instead the Detroit pick up the tab.
Naturally, the Tigers refused and just like that, the deal crumbled. Gonzalez would finish out the year with the Tigers, including a fantastic month of August. The Mariners, still wanting a corner outfielder to help Henderson and Buhner stay fresh, acquired Al Martin instead.
As things often seem to go for the Mariners, Martin wasn't anything more than a mediocre 4th outfielder. Seattle would hold onto first place until the final days of the season when they would finish 0.5 games back of the Oakland A's. Thankfully, Seattle won the only wild card spot by 1 game and even managed to sweep aside a 95 win Chicago White Sox team.
Ultimately, Seattle would fall 2 wins shy of the World Series, losing to the eventual world champion New York Yankees in 6 games.  Pineiro would go on to have a nice career, including really good 2002 and 2003 campaigns. But ultimately, he fell short of expectations and could never recapture his breakout campaigns with Seattle.
The refusal by ownership to pay $3 million for Juan Gonzalez quickly began to drive a wedge between Gillick and the Mariners and would set the tone for the next 15-years before the team was sold to John Stanton.
We don't know if Gonzalez would have helped the Mariners get to the World Series. But that isn't what was important. This almost deal was a sign that was too big to ignore. For the Nintendo of America group, profit was priority #1. Winning was just a happy accident.