10 best trades in Seattle Mariners history: Number 5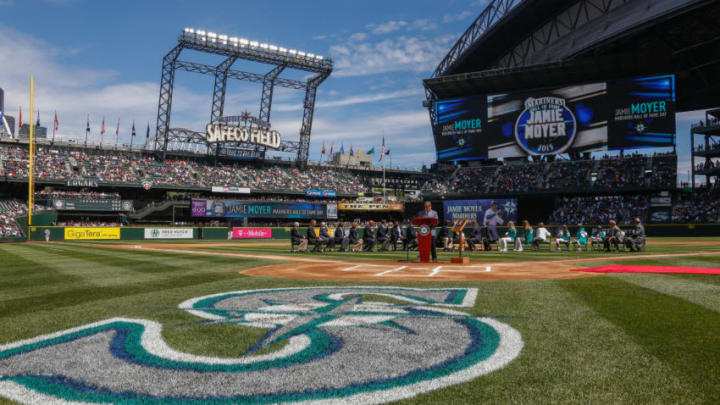 SEATTLE, WA - AUGUST 08: Seattle Mariners broadcaster Rick Rizzs speaks to the crowd during ceremonies inducting former pitcher Jamie Moyer into the Seattle Mariners' Hall of Fame prior to the game against the Texas Rangers at Safeco Field on August 8, 2015 in Seattle, Washington. (Photo by Otto Greule Jr/Getty Images) /
While we all wait for the return of Mariners baseball, we have an opportunity to reflect on some of the franchises' rich history. Today, we see how a #5 starter became a franchise icon.
What are the 10 best trades in Seattle Mariners history? Well, what they are, first and foremost, are entirely subjective. While we can add together the numbers and find the statistically best trade, we won't be doing that in this series. Instead, we will be blending our statistical analysis with several x-factors, including what the deal meant for the team at one time.
Remember, winning trade is good. But even an inconclusive trade or one that both sides benefit from isn't bad. The goal isn't to win every trade, the goal is to win games and to improve your team to help you win as many games as possible. Basically, a trade doesn't have to be a disaster for one team for that trade to be considered for this list.
As I said, we won't be laser-focused on the WAR outcomes (though those are part of our analysis), but rather what the trade brought the team in return. With that in mind, let's reveal the 5th best trade-in Mariners' history.
ARLINGTON, TX – AUGUST 23: Pitcher Jamie Moyer #50 of the Seattle Mariners throws against the Texas Rangers on August 23, 2005, at Ameriquest Field in Arlington in Arlington, Texas. (Photo by Ronald Martinez/Getty Images) /
When the Mariners acquired Jamie Moyer on July 30th, 1996, the move wasn't met with much fanfare. And why would there be? Moyer was 9 seasons into his big league career and was posting mediocre numbers including a career 4.51 ERA, a 94 ERA+, a 1.42 WHIP, and just 5.5 K/9. By all accounts, the team had just flipped a fourth outfielder having a good season for a #5, soft-tossing starter. Who cares?
Well, as history will tell us, it ended up being one of the best trades in the franchise's history. All Moyer would do during his 11 season career with the Mariners is make 323 starts, post a 3.97 ERA, a 1.25 WHIP, finish in the Top 6 of Cy Young voting 3-times, and make the 2003 All-Star team.
Moyer rode this success into the Mariners' history books, finishing his time in Seattle as the 2nd most valuable starter in franchise history (by fWAR) and was the record holder for most career starts for the Mariners as well. He was eventually surpassed by Felix Hernandez in both counts, but his 30 fWAR still ranks third highest in the team's history.
Moyer also became a key cog in the community of Seattle and an ambassador of sorts for the franchise after he retired. Without question, Moyer is one of the most important figures in the franchise's history and was honored with an induction into the Mariners' Hall of Fame in 2015.
In 1996, Seattle traded a fourth outfielder for a journeyman, soft-tossing, left-handed fifth starter. Nobody was supposed to remember this deal. It was a throwaway, the type of deal we see ever trade deadline that never amounts to anything serious. But as he would prove time and time again, Jamie Moyer wasn't a run-of-the-mill acquisition.
The total magnitude of this deal should not be undersold. What Seattle got was a good pitcher, but they got an even better man. Moyer will forever be a Seattle Mariner and his acquisition will forever be one of the greatest in Seattle's baseball history.