Mariners, Mitch Haniger market continues to improve, at least on paper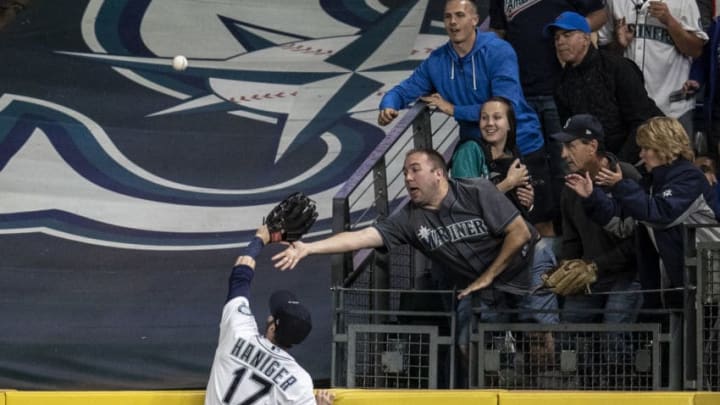 SEATTLE, WA - AUGUST 2: Leftfielder Mitch Haniger #17 of the Seattle Mariners climbs the wall in an effor to get to a two-run home run hit by Kendrys Morales #8 of the Toronto Blue Jays off ofg Juan Nicasio #12 of the Seattle Mariners that also scored Randal Grichuk #15 of the Toronto Blue Jays during the seventh inning of game at Safeco Field on August 2, 2018 in Seattle, Washington. (Photo by Stephen Brashear/Getty Images) /
The Seattle Mariners entered the 2019 season basically needing the perfect storm of transactions to move their best player, Mitch Haniger. Well, here we are.
The Mariners probably entered this winter convinced that the random string of transactions needed to clear the Haniger market to their advantage was just not realistic. And yet, just 3 days from Christmas, that is exactly what has happened.
Yesterday, one of the best fits in the Haniger market used some of their limited funds to sign a pitcher. And when the Chicago White Sox committed $55 million to Dallas Keuchel, it left their biggest need remaining in right field.
Yes, the Sox did trade for Nomar Mazara but anybody with a brain will tell you that does almost nothing to move the needle in a suddenly open AL Central. With Keuchel and Gio Gonzales getting $60 million in total in the past 2 days, along with the serious investment to Jose Abreu and Yasmani Grandal, the Sox are clearly interested in winning in 2020.
And if the Indians actually move Francisco Lindor and Mike Clevinger, the door could be open for Chicago. With Keuchel in Chicago and Madison Bumgarner in Arizona, the two teams who most need Mitch Haniger are spending their money elsewhere. This is terrific news for Seattle.
With Marcell Ozuna, the best corner OF bat on the market and money being spent elsewhere, the meager $3 million salary of Haniger just looks more appealing.
For the Mariners to seriously consider moving Haniger, they needed multiple suitors. And to get those multiple suitors, they needed a majority of MLB teams to do something they haven't tried to do in years: try to win games.
The combination of a poor corner OF free-agent class, multiple suitors, and more than 10 teams trying to win in 2020 was about as unlikely as could be. But as we stand here on December 22, that's exactly where we find ourselves.
The Mariners may very well not move Haniger. He still has 3-years of club control remaining and is a player they have said they would like to build around. But if they don't move him, it won't be because there wasn't enough interest in him, as was the case last winter.