Mariners Should Aggressively Pursue Top Prospect if Given Opportunity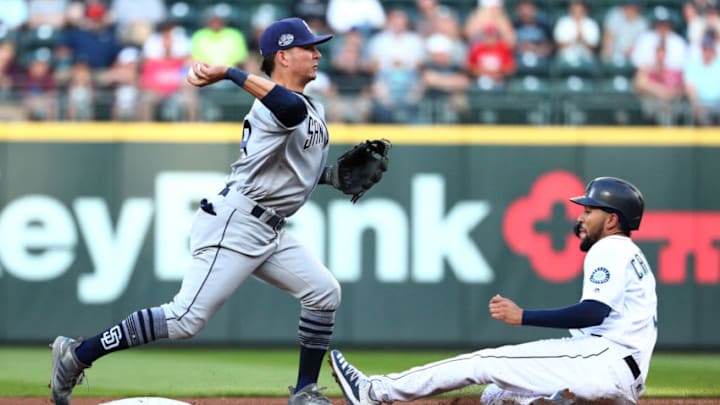 SEATTLE, WASHINGTON - AUGUST 06: Luis Urias #9 of the San Diego Padres throws the ball to first for a double play after forcing out J.P. Crawford #3 of the Seattle Mariners in the first inning during their game at T-Mobile Park on August 06, 2019 in Seattle, Washington. (Photo by Abbie Parr/Getty Images) /
A consensus, top 50 prospect may very well be shopped this winter, if for no other reason than to gauge his value. Ploy or not, the Seattle Mariners should aggressively pursue him.
The prospect in question is one Luis Urias and a recent report suggests the San Diego Padres are less than eager to hand him a starting job. The Mariners should be willing to do just that. The report comes from AJ Cassavell, who covers the Padres for MLB.com.
Cassavell was asked if the Padres were "married" to the idea of Urias as the second baseman of the present and future. Cassavell's response was interesting. In part, he said
""No, the Padres aren't married to Urías at second base. Maybe a year from now they will be. But in the present, there's no sense tying yourself to a player who has hit .221 with a .649 OPS through 83 career games — no matter what the upside once was…There's also a good chance the Padres will shop Urías this offseason. It's good business sense to learn what your assets are worth, after all. And if another team is willing to pony up for him, maybe the Padres will entertain a trade.""
"There is a good chance the Padres will shop Urias this off-season". You can read the whole article by clicking here. But let's consider the ramifications of that statement. The Padres are willing to listen on a 22-year-old, second baseman with 5-years of club control and a near-elite hit tool.
Need we say more? Urias has absolutely dominated the high minors at the plate. In fact, in his last 193 games at AAA, he has posted a .398 OBP with 27 homers and 39 doubles. Urias was given an extended look in 2019 and as the article mentions, it didn't go all that well.
In 249 PAs, Urias hit .223/.329/.326 with 4 home runs and an 81 wRC+. Yeah, that's not very good. But again, he is just 22-years-old and is already an above-average defender at second. With his insane success at AAA and average or better tools across the board, Urias should be mighty interesting to any rebuilding club.
Now, of course, there is a ton of ambiguity in the answer. A lot of, "ifs, ands, and maybes", so we don't know if this will ultimately be true. But if it ends up happening, the Mariners must be prepared to dive headfirst into these conversations.
The Mariners have no for sure answer at second base going forward. Shed Long was great, but the team has stated a desire to move him around and he has the athleticism to handle multiple spots. Seattle also has a desire to compete by 2021 so acquiring high-upside prospects with MLB seasoning is something they should be interested in.
The cost is anybody's guess, but it is safe to assume that Mitch Haniger would be the primary player going back to the Padres. And honestly, it makes some sense. The Padres are not thrilled with the production from their starting outfield and have expressed interest in upgrading there.
But San Diego has already spent a ton of money on Eric Hosmer and Manny Machado, and the Wil Myers contract explodes up to $20 million this winter. The Padres may be pretty well strapped at this point, meaning that an expensive free agent upgrade may not be in the cards. Thankfully, Haniger is cheap and club controlled, giving the Padres exactly what they need.
Now, whether or not Haniger himself can swing Urias is beside the point. It is, at the least, a framework that is a good place to start. Perhaps Seattle takes on some of Myers' contract or the Mariners add another decent prospect to the package.
There are literally dozens of iterations that could make sense and perhaps that is an article for another day. But the point here remains the same; the Mariners must seriously consider talents like Urias at all times. If they have an opportunity to nab him, they should go hard to acquire him.