Weird evaluations of Mariners 2018-2019 Off-Season Trades Pt. 2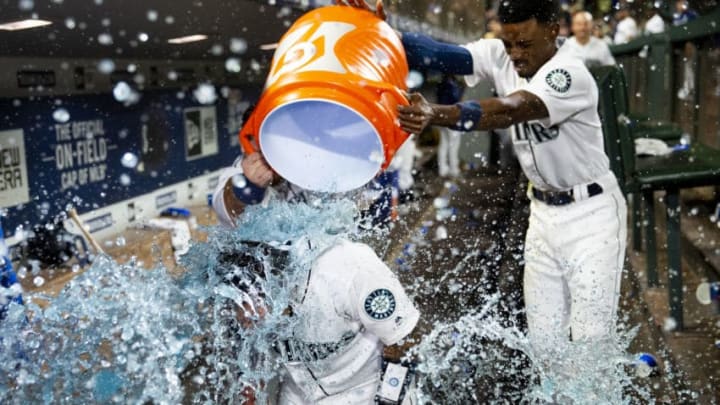 SEATTLE, WA - SEPTEMBER 14: Dee Gordon #9 of the Seattle Mariners helps pour Gatorade over Omar Narvaez #22 after he hit a walk-off home run against the Chicago White Sox at T-Mobile Park on September 14, 2019 in Seattle, Washington. The Seattle Mariners beat the Chicago White Sox 2-1. (Photo by Lindsey Wasson/Getty Images) /
The Seattle Mariners started their rebuild last off-season. And as a result, any evaluation of those trades must be viewed through the lens of how they impact the team in the future. But what if we only focused on 2019?
In our first article of the series, we took a look at how the Mariners blockbuster trade of Edwin Diaz and Robinson Cano to the New York Mets impacted the 2019 teams. It is a bit complicated, but basically we are attempting to see who "won" each trade based only on the production of the players involved at the big league level.
So, in the Mets trade, as excited as we all are for Jarred Kelenic, he wasn't with the big league team in 2019, so he didn't even factor into the equation.
Obviously, viewing each trade with only 1-year of data and without any context is silly. But as we wait for the Hot Stove Season to officially fire up, some silliness isn't a bad thing. In part 1, we discovered that the Mariners actually got more value from the 4 players they acquired in that than the Mets did from Diaz and Cano, but just barely.
In Part 2, we are going to focus on a much simpler deal from the last off-season. A deal that sent a set-up man to the Windy City for a starting catcher. If you need a refresher, here is the deal in its entirety.
So we have a simple, 1-for-1 deal and both teams stuck with their team for the entire season. This is an incredibly simple trade to break down with our criteria. Alex Colome appeared in 60 games for the White Sox and was actually quite good.
He posted a 2.80 ERA, a 1.06 WHIP, collected 30 saves, and averaged just over 8 strikeouts per nine innings. These numbers led baseball reference to credit Colome with a 1.0 bWAR, which is pretty good for a reliever. Fangraphs had a slightly worse calculation on Colome, granting him a 0.6 fWAR.
The Mariners landed catcher Omar Narvaez from the White Sox and in his first year as an everyday option, he more than held his own, slashing .278/.353/.460 in 132 games while setting a career-high with 22 home runs.
There were a lot of issues defensively with Narvaez which did hurt his value quite a bit in 2019. However, Narvaez finished the year with a 2.1 bWAR and a 1.8 fWAR, blowing Colome out of the water.
Now, comparing WAR from a player who threw 60 innings versus a guy with 400+ PAs is tough. But we aren't talking about the difference of 0.1 or 0.2 WAR. In both cases, we are looking at more than double the output for Narvaez.
The verdict, in this case, is pretty simple. This trade made the Mariners better in 2019, making Jerry Dipoto two for two in off-season trades for 2019. And when you actually look at this trade in a long-term lens (aka properly), the deal looks even more lopsided. Well done, Jerry.