3 Former Mariners For Which a Reunion Could Make Sense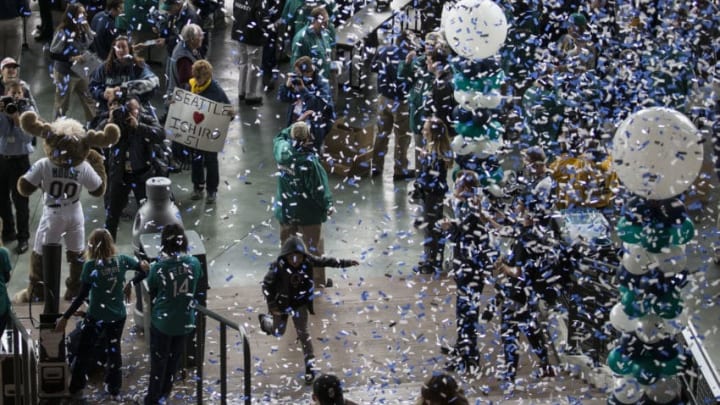 SEATTLE, WA - MARCH 29: As confetti rains down, fans make their way into the stadium before a game on opening day between the Cleveland Indians and the Seattle Mariners at Safeco Field on March 29, 2018 in Seattle, Washington. (Photo by Stephen Brashear/Getty Images) /
Typically speaking, in sports, you get one "tour of duty" with a team to make your mark on a franchise. If you don't, rarely will the two sides come back together to try again. But perhaps the Mariners could try this.
And no, I'm not suggesting the Mariners go out and sign Nelson Cruz and trade for Edwin Diaz. Sure, those reunions would be fun and certainly make the 2020 roster better. But they aren't practical.
Instead, we are focusing our parameters on 3 players who played for the Mariners but didn't exactly leave the fans with warm and fuzzy feelings when they left. Sorry Maple Grove, but you'll have to wait until next winter for your James Paxton reunion.
We need to keep in mind that GM Jerry Dipoto has already laid out his "vision" for this off-season and at the center of it is making sure his young, position players can get every possible opportunity to play at the big league level.
This means the Jay Bruce and Edwin Encarnacion additions are highly unlikely this winter. But there are several former Seattle Mariners who will be available on the cheap this winter and those are the guys we are focusing on. With all that in mind, let's get started.
ANAHEIM, CA – JULY 20: Justin Smoak #17 of the Seattle Mariners smiles after his run in front of Hank Conger #24 of the Los Angeles Angels to take a 3-0 lead during the first inning at Angel Stadium of Anaheim on July 20, 2014, in Anaheim, California. (Photo by Harry How/Getty Images) /
Yeah, I know. Justin Smoak is one of the biggest busts in team history. I get it. At least, I get why you'd say no on the surface. But the team brought back Dustin Ackley this spring and, despite the fear of a local radio personality, it didn't sink the franchise. Did you even remember they brought back Ackley?
But anyways, Smoak isn't Ackley. Smoak has been a good, MLB player in his career and Ackley, well, hasn't. And we aren't talking about a multi-year contract for Smoak either. We are, at the most, talking about one season of Smoak at first base and DH. That's it. One season. You can stomach that.
Yes, Evan White is the first baseman of the future but he won't be ready to play in the big leagues until at least June. You can run Daniel Vogelbach out there, but you want him to focus on hitting. You can use Austin Nola, but if they trade Omar Narvaez, it isn't ideal.
Simply put, Smoak is a good bandaid who can fill in for a few months to allow White to actually develop without killing you. Over his last 3 seasons, Smoak has hit .243/.350/.470, averaging 28 home runs and 26 doubles per season.
He is coming off a difficult 2019 that saw him hit .208/.342/.406, which means he will be cheap. A 1-year, $7-$8 million deal is fair value for Smoak and won't prohibit him from being dealt mid-season if White is ready to go.
Like it or not, there is some decent value to be had in signing Smoak. Put aside your bias and let a little common sense seep in. Smoak to the Mariners can work.