Seattle Mariners: A significant part of Saturday's walkoff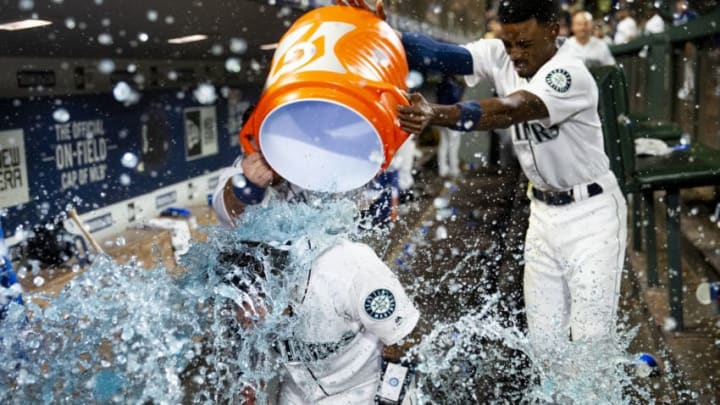 SEATTLE, WA - SEPTEMBER 14: Dee Gordon #9 of the Seattle Mariners helps pour Gatorade over Omar Narvaez #22 after he hit a walk-off home run against the Chicago White Sox at T-Mobile Park on September 14, 2019 in Seattle, Washington. The Seattle Mariners beat the Chicago White Sox 2-1. (Photo by Lindsey Wasson/Getty Images) /
As is now old news, Omar Narvaez hit a walk-off homer in Saturday's win against the White Sox. And this weekend's series ended in even more exciting fashion as today the Mariners walked off for their second straight contest in a rollercoaster, come-from-behind win.
But as significant as Tom Murphy's walk-off free pass was to seal the Mariners Sunday comeback, Omar's Saturday heroics were special in their own way.
On one hand, it capped off the rarity of a Mariners catcher hitting .280 on the season and showing as much power as he has. But here's why his blast was symbolic. The pitcher he hit it off of was Chicago's current closer and our former setup man, Alex Colome.
He has had a solid year with his new squad as he has a 1.4 WAR, 27 saves, and a 2.53 ERA. But Omar's walk-off brought sweet irony as he won the game against his trade counterpart.
His home run was a total statement, reminding any naysayers that his specific offseason trade is working out darn well. We have a catcher who can actually hit, who is only 20 points below .300. We have a catcher who is clutch.
The main point here is that for once in a blue moon, the player who we received in the trade had the last laugh. And this wasn't the first time Colome was hittable against as we lit him up pretty well during our April trip to the South Side.
This home run is hopefully a reminder to all that this trade will be won by us in the long run. How many times in our team history have guys that we traded away dominated us? They play a series against us and basically throw it in our face that we got rid of them. Mike Zunino still has a dismal batting average in Tampa this season, yet even he hit a game-deciding homer when he returned to Seattle.
For past teams, it's been a little embarrassing when our former guys face us. Remember how bad Jeff Cirillo was here? And he launched an in-your-face home run in 2004 as a Padre. After we traded away every other month Eddie Guardado, he shut us down when he pitched against us in relief.
As everyone knows, Adrian Beltre was fine as a Mariner but never as good as he was with any other club. Well, he always pulled off clutch hits against. And one more frustrating one was George Sherrill, who completed multiple saves against the Mariners as an Oriole many years ago.
These are of course specific examples but the list goes on of former Mariners not only doing well but doing well against the team directly. Once again, to be a realist, Omar's homer didn't turn the season around or make a difference in the season.
At the end of Saturday, we had still won just 61 games by mid-September. It was just encouraging to for once see a new Mariner give it back to a former one.