Seattle Mariners Most Likely Draft Pick Scenario for 2020 Draft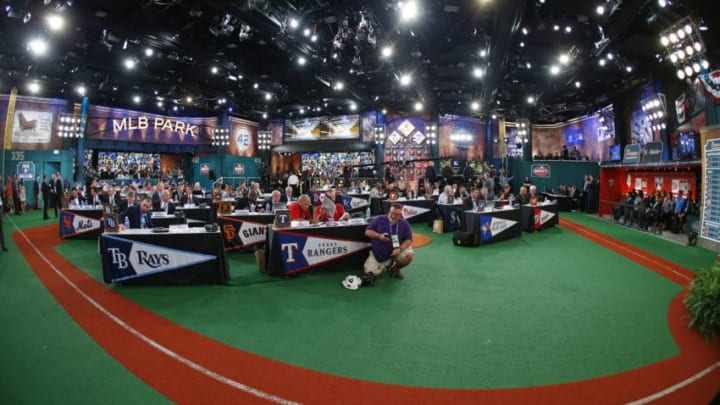 SECAUCUS, NJ - JUNE 5: Representatives from all 30 Major League Baseball teams fill Studio 42 during the MLB First-Year Player Draft at the MLB Network Studio on June 5, 2014 in Secacucus, New Jersey. (Photo by Rich Schultz/Getty Images) /
The Seattle Mariners have less than a month until their 2019 season ends. And as in most rebuild scenarios, the team should have a high draft pick to show for it. But where do they stand now and how high can they go?
Currently, the Mariners sit at 57-78, which is "good" for the 6th worst record in all of Major League Baseball. So, naturally, if the season ended today, Seattle and Jerry Dipoto would own the 6th overall pick of the draft and roughly $10 million of draft bonus pools.
But the real question is how high can they climb? The 5 teams ahead of the Mariners, in order from first to fifth, are the Tigers, Baltimore, Kansas City, Miami, and Toronto. Detroit has a pretty firm lock on the number 1 pick as they are 5 games behind the Orioles in the win column.
In fact, reaching the Top 4 would take some series doing by the Mariners and the team closest to them in the Top 4, the Miami Marlins. Seattle is 8.5 games ahead of Miami, meaning the Marlins would need to win 9 more games than Seattle in the next 27 games. Highly unlikely.
Realistically, the highest Seattle could climb is 5th. The Mariners are 3.5 games ahead of the Blue Jays, meaning Seattle would have to be 4 games worse than Toronto going forward. Even that is a stretch, but conceivable. The Mariners still have 2 games against the Cubs, 6 against the Astros, and 4 against Oakland.
The highest Seattle can climb is to the 5th pick. However, the bigger concern may be falling down the draft board. The Chicago White Sox, Pittsburgh Pirates, and Colorado Rockies are still within spitting distance of the 6th worst record.
Chicago is just 4 games behind the Seattle, Colorado is just 1 game behind them, and Pittsburgh is just 1 loss behind them. Interestingly enough, Seattle plays the White Sox 3 and the Pirates 3 times each in September.
Those games could go a long way into shaping the back half of the Top 10 of the 2020 MLB Draft. Realistically, the highest Seattle can finish is with the 5th overall pick. And, in theory, they could finish with 9th overall pick.
Barring a crazy long win or losing streak in the month of September, the Mariners appear to have locked themselves into the Top 10 of the MLB Draft order, with the most likely scenario landing them somewhere between the 6th-8th overall pick range.