The Day After The Deadline: How the Mariners Will Look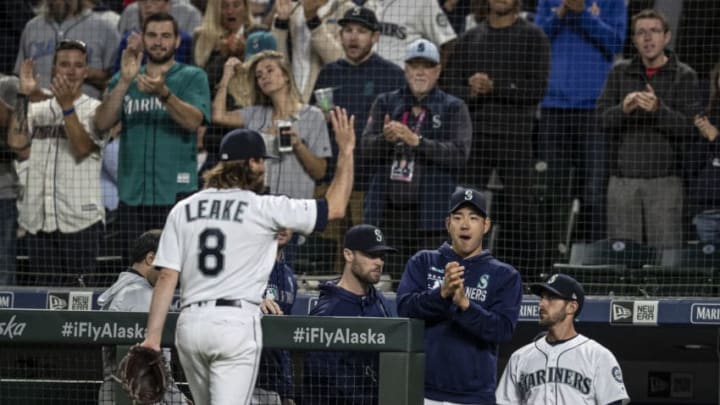 SEATTLE, WA - JULY 3: Starting pitcher Mike Leake #8 of the Seattle Mariners acknowledges fans and teammates including Yusei Kikuchi #18 of the Seattle Mariners (2R) after coming off the fiel during the eighth inning of a game against the St. Louis Cardinals at T-Mobile Park on July 3, 2019 in Seattle, Washington. The Cardinals won the game 5-2. (Photo by Stephen Brashear/Getty Images) /
The baseball trading deadline has now come to the end. The Mariners were able to make three deals in the last couple hours. Though he is Trader Jerry we weren't sure anything would happen.
There was thought the Mariners could trade Roenis Elias since he was the best pitcher in the bullpen other teams needing relief help could go after. The Washington Nationals decided to take him off the Mariner's hands sending two minor relievers back in return.
In a surprising move, the Mariners sent closer Hunter Strickland to the Nationals as well, getting another reliever prospect in return. Strickland just came off the injured list last week. I guess it shows the Nationals needed help in their bullpen and the Mariners don't need a closer at all.
Last but not least, the Mariners were able to unload starter Mike Leake to the Arizona Diamondbacks. I expect the Diamondbacks needed another starter since they traded Zach Greinke to the Houston Astros. Seattle received a high-level A infielder in return for Leake. The Mariners sent cash to the Diamondback too.
With the three trades, Dipoto had to make moves to the roster as well. They brought up Gerson Bautista from Tacoma and promoted Zach Grotz from double-A Arkansas.
The Mariners haven't added a pitcher yet to take Mike Leake's spot on the roster or in the rotation. Wouldn't be surprised if they bring up a reliever before Friday's game in Houston.
The Mariners have two off-days next week as well as Monday the following week. This means that Leake's spot won't need to be taken up until the second week of August or perhaps it will be in the series against the Blue Jays in Toronto.
Now, the relievers will get to audition for next season to see who stays and who leaves. Anthony Bass and Sam Tuivailala are the likely going to close out games though we could see Gerson Batista and Zach Grotz as well.
The next two months will show how the rest of the story will be written. I figure it can't be much worse than last year which made all the off-season transaction happen and the retooling began. Go M's.