Seattle Mariners Trade a Day: Mike Leake Back to NL Central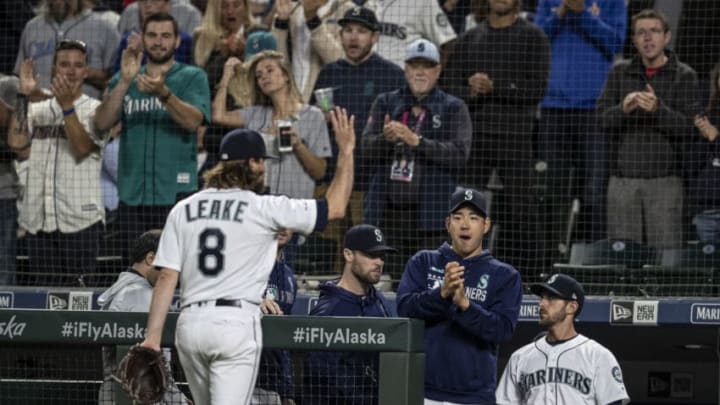 SEATTLE, WA - JULY 3: Starting pitcher Mike Leake #8 of the Seattle Mariners acknowledges fans and teammates including Yusei Kikuchi #18 of the Seattle Mariners (2R) after coming off the fiel during the eighth inning of a game against the St. Louis Cardinals at T-Mobile Park on July 3, 2019 in Seattle, Washington. The Cardinals won the game 5-2. (Photo by Stephen Brashear/Getty Images) /
The Mariners have 5 days to find a take for right-handed pitcher Mike Leake. But as we approach the deadline, a few key injuries to one contender's starting rotation may have made a new buyer for Leake.
The Mariners have to clear a few hurdles if they want to trade Leake in the coming days. The biggest is most definitely the money. When factoring in his salary for the rest of this year, next year, and the buyout, Leake is due about $19 million over the next two seasons.
But Seattle hasn't been shy about eating money in past deals this season and the assumption has always been that they will do the same with Leake.
But another hurdle to clear is Leake's no-trade clause. While he hasn't been quiet with his desire to leave the current situation, Leake's demands on a trade partner have been pretty clear. He would prefer to stay on the West Coast or to at least be dealt to a team whose spring training home is in Arizona. Based on his recent comments, it sounds like a chance to win now is pretty important.
The Milwaukee Brewers fill 2 of the 3 criteria and have had a rash of recent injuries to their starting rotation. Jhoulys Chacin, Gio Gonzalez, and Brandon Woodruff have all hit the IL recently and all are expected to miss some serious time.
The Brewers have scuffled a bit recently and sit 55-50 but are just 2 games back of the NL Central lead. They'll likely be interested in more high profile arms, but with a need for multiple starters and an already depressed market, Mike Leake may make sense.
He may not be exciting but Leake would actually become the best starting pitcher for the Brewers all season by fWAR, so he is a clear upgrade. But what would a trade look like? Here is our proposal:
So unlike many deals, this trade actually involves an MLB player for an MLB player. After the initial sticker shock of a fairly recognizable name like Travis Shaw wears off, the deal could make some sense. Think about it.
Shaw is 29-years-old, will hit arbitration 2 this off-season, is starting to make money and has no place to play Shaw at the moment. Plus, he's been really bad in limited opportunities this season. In 57 games, Shaw has hit .164/.278/.290 with a -0.9 fWAR.
But just last season, Shaw was a 3.5 fWAR player with above-average power and walk numbers. Shaw has been a good player who plays a nice third base. But again, he has no path to playing time in 2019 or beyond and the Brewers are in a win-now window.
The Mariners can give the Brewers something they need without sacrificing any prospect depth. The deal isn't perfect by any stretch. But it is a framework that could work for both sides. The Mariners would likely deploy Shaw mostly at first or third base. Leake gives the Brewers quality innings for their playoff charge.
This deal checks a lot of the boxes of ideas for a Leake trade. It is sort of a bad contract swap. It is creative. It isn't for a prospect. What it is is just another idea to throw against the wall. Seattle could add a player like backup catcher Tom Murphy, or maybe even throw a prospect back to sweeten the deal?
A perfect swap? No. A viable idea from which to work from? Perhaps. Either way, time is running out to find a taker for Leake. As the landscape continues to change, anything can happen in the next 5 days. And for that, we love the MLB Trade Deadline.