Mariners Trade a Day: Fixing a Leake in a Division Rival's Staff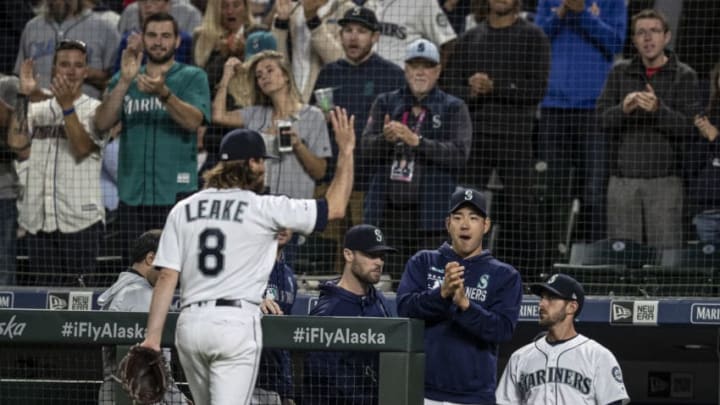 SEATTLE, WA - JULY 3: Starting pitcher Mike Leake #8 of the Seattle Mariners acknowledges fans and teammates including Yusei Kikuchi #18 of the Seattle Mariners (2R) after coming off the fiel during the eighth inning of a game against the St. Louis Cardinals at T-Mobile Park on July 3, 2019 in Seattle, Washington. The Cardinals won the game 5-2. (Photo by Stephen Brashear/Getty Images) /
The Seattle Mariners are pushing hard to move veteran pitcher Mike Leake and the good news is there should be some level of interest from 6-10 teams around the league.
One such team doesn't immediately jump to mind as one looking for starting pitching, but the Mariners will likely engage them either way. The Houston Astros may be a fit for Mike Leake, a statement that would be laughed at 2 months ago.
But a lot can change in a short period of time. Justin Verlander and Gerrit Cole have been great and Wade Miley has been more than adequate. But Brad Peacock is on the IL with shoulder inflammation, Collin McHugh has been dreadful and Top prospect Corbin Martin may be headed for Tommy John Surgery.
The Astros have a lot of young arms but those arms come with challenges. There are many factors to consider, including innings caps, health, and ability to handle high-stress situations as a rookie. While Houston seems like a lock to take the AL West, adding a veteran starter to eat innings and take the pressure off young arm could be of interest for them.
The Astros have been linked to Matt Boyd but with the Tigers ridiculous asking price, they may look for cheaper options. And while Mike Leake may not be the best arm available, he very well could be the cheapest.
With the Mariners and GM Jerry Dipoto willing to eat salary to move Leake, the Astros do make some sense for the 9-year veteran. Leake can help them down the stretch and possibly in the playoffs as well. But what would it cost the Astros to land one Mike Leake? Here is our proposal:
The Astros recently DFA'd former second-round pick AJ Reed so his inclusion in this deal shouldn't be that surprising. If the Astros can't trade Reed, he will likely be claimed so this could be their last chance to get value.
As we have seen, Dipoto loves to take chances on former Top Prospects who have had MLB struggles. Be it Tom Murphy, J.P. Crawford, Mitch Haniger, or even Matt Wisler, Dipoto has found value in giving players a fresh start to their big league careers.
Reed cruised to the big leagues, making his debut just 2-years after being drafted in 2014, but struggled in his first taste of the big leagues, slashing .164/.270/.264 in 141 PAs. Reed was sent back to AAA in 2017 and hit 34 home runs while posting a .358 OBP.
Unfortunately, the Astros had no room for Reed on the 25 Man roster and he has appeared in just 3 games since his rookie season. A change of scenery could be exactly what Reed needs and a real chance to prove whether or not he can hit big-league pitching.
The Mariners have the PAs to give him at first base or DH, alternating with Vogelbach on a regular basis. Reed is about average defensively and was actually a great pitcher at Kentucky making him a bit more valuable than Vogelbach in the field. Reed is the headliner and giving him 4-5 starts a week to see what he can do couldn't hurt.
The other player in this deal is RHP Brett Conine, an 11th round pick out of Cal State Fullerton. Conine's career has gotten off to a great start, dominating both levels of A-Ball thus far. He is missing bats for now, but he has average stuff with above-average command and generates a ton of groundballs.
The ceiling for Conine is Mike Leake in 3-4 years but should see time in the big leagues before then. Conine wouldn't likely find his way into the Mariners Top 30 prospects list but would be on the borderline.
While neither Conine or Reed is a guaranteed big leaguer, it is perhaps more than a fair price for Leake. In fact, getting either for Leake might be too much to expect. However, these articles are about finding fit and identifying targets. So even if Leake is traded elsewhere, keep an eye out on Reed and Conine in the future.
The Astros need a veteran to eat innings down the stretch without killing them and the Mariners have one to give. Eating money to get more value is fair and necessary for Dipoto so he can continue his rebuild without any unnecessary payroll.