Seattle Mariners Trade a Day: Taking Advantage of Cleveland's Window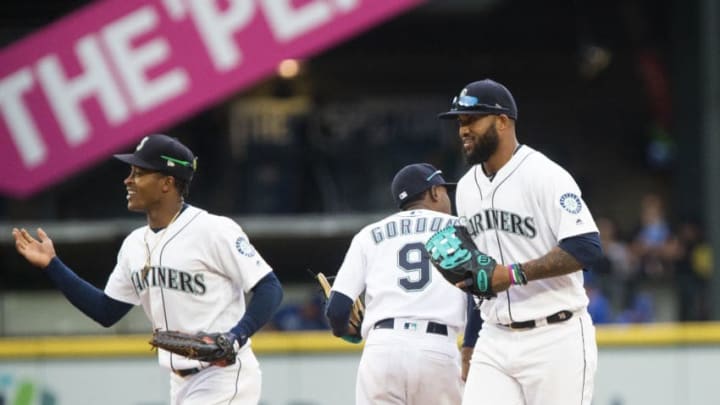 SEATTLE, WA - JUNE 19: Mallex Smith #0 of the Seattle Mariners, left Dee Gordon #9, and Domingo Santana #16 celebrate their win over the Kansas City Royals at T-Mobile Park on June 19, 2019 in Seattle, Washington. The Seattle Mariners beat the Kansas City Royals 8-2. (Photo by Lindsey Wasson/Getty Images) /
We are officially in July, which means the trade rumors should start firing up even more intensely soon. The Mariners will surely be involved and today we take a look at how they can take advantage of a contenders closing window.
The Cleveland Indians are a fringe playoff team whose window to win the world series is closing quickly. There more expensive players are heading towards free agency and are unlikely to re-sign and the Twins have blown right by them in the process. Sounds like a good fit for the Mariners.
The Mariners, whose window was never as open as Cleveland and was closing just as fast, took a step back in 2019 and are now in a position to take advantage of a team like Cleveland. Terry Francona and his crew sit 8 games behind the Twins in the AL Central, but are just 0.5 games back of a playoff spot and are playing better of late.
With Trevor Bauer and Francisco Lindor inching towards free agency and Carlos Santana and Corey Kluber headed towards inevitable decline, Cleveland may need to make a big move to extend their window. While they have a nice farm system and some solid young MLB pieces, this could be their last shot for quite a while.
By far, the biggest weakness in Cleveland is the outfield. They rank just 24th in OF fWAR and their 81 wRC+ ranks 27th in the league. Yikes. Fortunately, the Mariners have several outfielders that could fit the mold for Cleveland, including Mitch Haniger and Mallex Smith. But with both appearing to be in the long-term future for Seattle, perhaps the best fit is actually Domingo Santana.
Now I don't have to tell Mariners fans just how good Santana has been this year. In 2019, Santana is slashing .278/.348/.499 with 18 home runs and 62 RBI. At this point, it seems safe to assume the 2018 slump was more about playing time and health, and 2017 Santana is a safe projection going forward.
Even if you want to be safe in projecting Santana, a .260/.340/.480 hitter with 30 home run power and 2.5 years of club control is going to have value, especially as a 26-year-old. The Mariners very well could see Santana as part of their future, but they could just as easily see him as an appealing trade chip to shop around.
If Santana is indeed available, the Cleveland Indians should have a major interest. Cleveland has the ability to put together a solid package and at least give GM Jerry Dipoto something to consider. What would that package look like? Here is our proposal:
The biggest and most recognizable name to most people is likely Jake Bauers. Obtained in the three-team deal that sent Carlos Santana to Cleveland and Edwin Encarnacion to Seattle, Bauers was sent from Tampa to Cleveland for Yandy Diaz.
The left-handed hitting Bauers has solid on-base skills and should hit for a decent average while providing average defense in left field or first base. What holds Bauers back in terms of prestige is his lack of power.
Bauers has never hit more than 14 home runs at any level, nor has he slugged over .420 at any level. He doesn't have the speed to make up for the power and his defense in left is about average. In short, Bauers needs to hit for power to be an everyday big league player.
If the Mariners think they can help him do it, Bauers is an interesting option for the team. He turns 24 in October and still has two options remaining, so there is time to help Bauers tap into his natural bat speed to hit more home runs.
In addition to Bauers, the Mariners land Zach Plesac, an RHP who has made 7 starts for Cleveland this year and handled himself very well. Plesac isn't a "stuff guy" but rather a strike thrower who can place all 4 of his offerings in the strike zone with above-average command.
The heater sits 92-94 and touches 96 and he throws a mid 80's cutter to go with it. Both pitches show good life and are his tow above-average offerings. The breaking ball, in this case, a curveball, is fringe-average as is the changeup. But they are effective enough to be more than get me over offerings.
Plesac should miss enough bats to stick in the backend of the rotation but will be closer to a 7.5 K/9 arm than a 9 K/9 type of arm. With Kluber, Carlos Carrasco and Mike Clevinger on their way back, the Indians could take advantage of Plesac successful big league stint and get value for him.
So unlike other selling deals, this trade has the Mariners giving two major leaguers for 2 players with major league experience. Santana and Roenis Elias better fit the timeline for Cleveland while Bauers and Plesac better fit the timeline in Seattle.
There are a dozen little variations to make on this deal, but it does solve some need for Cleveland and land Dipoto and crew two potential big league pieces with a lot of control and decent upside. There is a lot to like here and may just be a doable trade here in the month of July.