2019 MLB Draft: Seattle Mariners take TCU LHP Brandon Williamson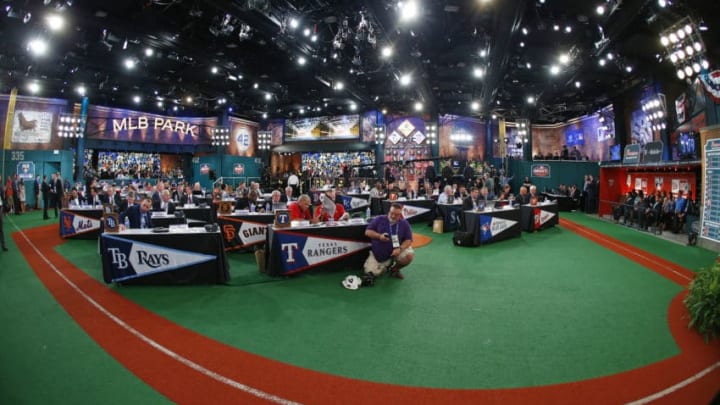 SECAUCUS, NJ - JUNE 5: Representatives from all 30 Major League Baseball teams fill Studio 42 during the MLB First-Year Player Draft at the MLB Network Studio on June 5, 2014 in Secacucus, New Jersey. (Photo by Rich Schultz/Getty Images) /
The second round of the 2019 MLB Draft is underway and the Mariners have double-dipped into the pitching class.
While the Mariners have made great strides in rebuilding their farm system, they've remained rather light in terms of starting pitching prospects. A long 39 picks after taking Elon University RHP George Kirby, Seattle once again added to its pool of starters in tonight's MLB Draft.
This time, they go with Brandon Williamson at 59th overall, a left-handed pitcher from Texas Christian University. In his Junior year, Williamson went 4-for-5 with a 4.19 ERA in a tough Big 12 conference. Through 77.1 innings pitched, he struckout 89 hitters and walked 36.
Though his stats don't jump off the page, Williamson is an intriguing upside play. Spending his first two collegiate years at North Iowa Area Community College, Williamson hadn't been exposed to legitimate competition until his move to TCU this season, and he had to do it while recovering from a significant surgery to repair the labrum in both of his hips.
Like Kirby, Williamson sports four pitches: a fastball, slider, curveball, and changeup. Both the fastball and slider have flashed plus, though it was come and go this season. When everything's working for him, however, Williamson is sitting in the mid-90s with some movement.
Consistency—or lack thereof—is going to be key for Williamson. This year, command was an issue and velocity fluctuated. Of course, some of this can be attributed to Williamson's work back from surgery.
Aside from a four-run outing versus highly-ranked Texas Tech on May 18, Williamson finished the year on a strong note. The Mariners will hope to keep him on that path as they bring him into their organization. If so, Williamson has the potential to develop into a legit middle-of-the-rotation starter.
It'll take time, though. While Williamson is a third-year man out of college, there is still a ton of untapped potential in his arm.
Seattle has one last selection tonight at pick #76. Colby will have you covered on who they select there, and don't be surprised if it's yet another pitcher (spoiler alert: it is). After that, it's on to the second day of the draft, where the Mariners won't have to wait too long for their pick at 97th overall.