Seattle Mariners MLB Draft Prospect Profile, Will Wilson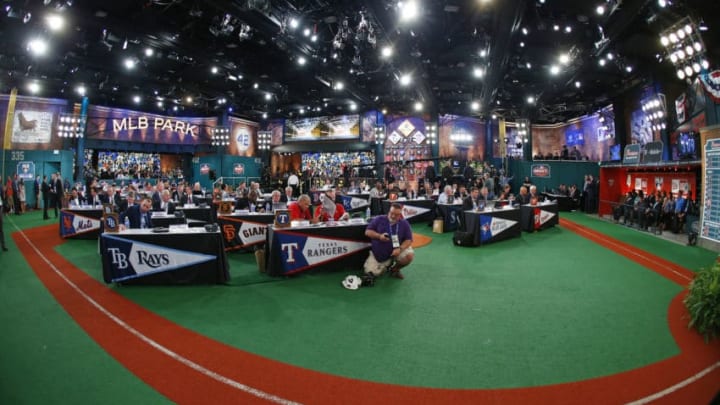 SECAUCUS, NJ - JUNE 5: Representatives from all 30 Major League Baseball teams fill Studio 42 during the MLB First-Year Player Draft at the MLB Network Studio on June 5, 2014 in Secacucus, New Jersey. (Photo by Rich Schultz/Getty Images) /
We continue to creep towards the MLB Draft and the Mariners are being as tight-lipped as usual. But today, we take a look at another potential selection at the 20th overall pick.
Yesterday, we looked at college shortstop Logan Davidson. Today, we focus on another shortstop the Mariners could consider with their first-round pick, Will Wilson from North Carolina State University.
Wilson, the 6'0″, 175 lbs right-handed hitter just wrapped up his second massive regular season in Raleigh. After slashing .307/.376/.588 with 15 home runs as a sophomore, Wilson returned in 2019 and actually got even better.
This season, he slashed .361/.450/.703 with 16 home runs in 9 fewer games than he played last season. Some scouts aren't sure if that power can translate to pro ball, largely due to his size. But Wilson does have quick hands and has a knack for putting the barrel on the ball with regularity.
He is an aggressive hitter in the zone but has improved his plate discipline all 3-years at NCST. Despite his small frame, Wilson does have below-average speed, which limits him both offensively and defensively.
He has adequate footwork and arm strength at shortstop but his range is limited by his lack of quickness. A move to second base is likely, but some scouts think he can handle shortstop well enough that his bat will make him an offense first shortstop. The bat profiles well at second base, so a change in positions won't be an issue.
Scouting Grades(20-80)- Hit: 55 Power: 50 Arm: 50 Field: 50 Run: 40 Overall: 50
Wilson isn't the type of prospect that will have fans doing backflips on draft day. However, what he brings to the table is valuable at the big league level. Wilson has all the tools to be a relatively fast riser as well, which could improve his stock even more.
If the Mariners are indeed choosing between Wilson and Davidson, the question will come to whether Dipoto and his team prefer upside or ceiling. Wilson is a good bet to carve out a nice career as a big leaguer (as much as any prospect is at least), and that floor and possible 2022 time table make him an attractive option in the first round.