Seattle Mariners MLB Draft Prospect Profile: Josh Jung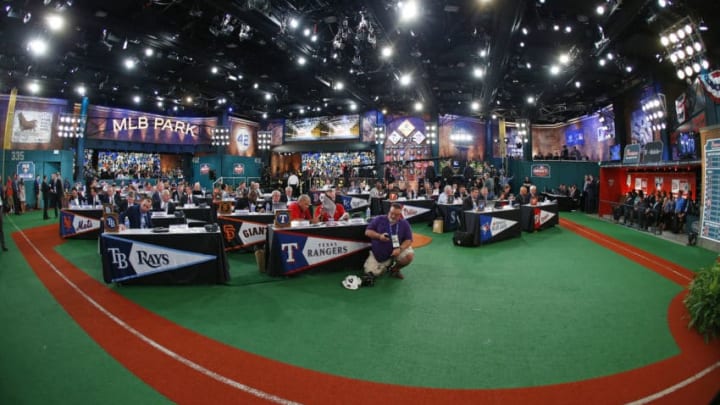 SECAUCUS, NJ - JUNE 5: Representatives from all 30 Major League Baseball teams fill Studio 42 during the MLB First-Year Player Draft at the MLB Network Studio on June 5, 2014 in Secacucus, New Jersey. (Photo by Rich Schultz/Getty Images) /
The NFL Draft starts tonight. But for Mariners fans, the MLB Draft is just over a month away. And while drafts are on the mind, let's take a look at one potential selection at pick 20 in June's MLB Mock Draft.
Perfect Game USA recently did a mock draft and the Mariners selected a prep high school arm who we will cover at some point. But perhaps more interesting was what happened at pick 21. In the mock draft, the Braves selected Texas Tech Third baseman, Josh Jung.
What made this so interesting is that Jung has long been considered a Top 10 pick. But after an outstanding 2018, Jung has taken a step back in 2019 but is still producing at a good but not great level.
Tools wise, Jung has some interesting assets. The 6'2″, 210 lb third baseman is a polished hitter who can barrel up the ball with regularity. He has a sound approach at the plate and has as many walks in his career as strikeouts. He hits the ball from the foul line to foul line, giving him a decent chance to hit for average.
The right-handed hitter has good bat speed and swing path, which should lead to 25 home run power in the future. To reach his ceiling in the power department, he will have to pull the ball more, but he does have home run power to all fields.
On the field, Jung has a strong arm and soft hands. He lacks the speed or quickness to ever be a gold glove defender at third but is instinctual and fundamentally sound. This, along with his plus arm, gives him a bigger margin for error at the hot corner, and he should have to problem sticking there as a pro.
Jung's profile really jumped up after his 2018 season but has fallen back due to his 2019. In 2018, he slashed .392/.491/.639 at Texas Tech, with 12 home runs 263 ABs. This year, the power has dipped some, though he does have 5 home runs in 138 ABs. His slash line also took a step back to a still solid .312/.443/.555 clip.
Jung wasn't on the radar out of high school and went undrafted as a result. However, thanks to his career at Texas Tech, he has cemented himself inside the first round and with a big second half, could force his way back into the Top 10 conversation.
Jung would be an amazing addition to the Mariners farm system, and would likely slot between Evan White and Kyle Lewis. While it is unlikely, the possibility does exist, which may not have been the case a month ago. Keep an eye on Josh Jung going forward.