Mariners Fans Should Remain Patient, Applaud Team's Direction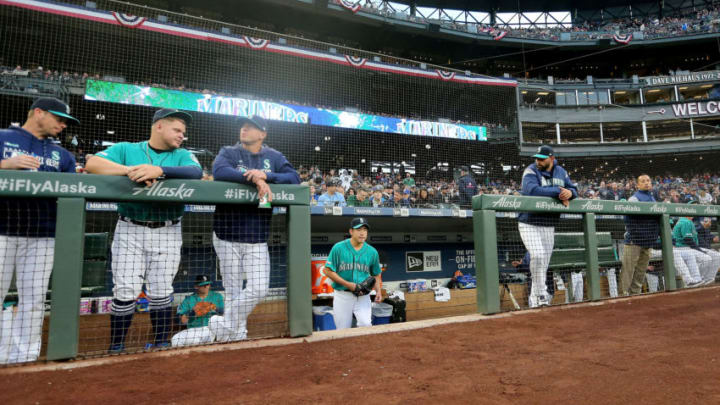 SEATTLE, WA - MARCH 29: Yusei Kikuchi #18 of the Seattle Mariners takes the field for his MLB debut against the Boston Red Sox during their game at T-Mobile Park on March 29, 2019 in Seattle, Washington. (Photo by Abbie Parr/Getty Images) /
After all the love and joy being spread after the Mariners 3-0 start, the team suffered their first step back of the season. Mear minutes after the bullpen blew their first lead of the year, it was already time to start calming people down.
There shouldn't be anything in a 4 game stretch that you take as the new norm. That goes both ways for Mariners fans. Yes, we are having fun with Domingo Santana and Tim Beckham's hot start, but any reasonable fan knows that things will level off.
We also know that not every bullpen is perfect and that the Mariners went cheap with their bullpen. But last night's loss in no way changes the overriding truth of the direction of the franchise: Seattle did what was needed.
And while many fans, or normal people for that matter, don't applaud things like that, I will. For you see, for the better part of 20 years, the Mariners never did anything like that. They never spent the money to put their good teams in the early 2000s over the top. And they never committed to a rebuild when things were at their worst in the early 2010s. The Mariners just did whatever they wanted to keep their head above water.
But there was never a plan to go from okay to good, let alone from good to great. Now, for possibly the first time in franchise history, they are attempting to be great. But the road to greatness isn't a smooth one. It takes sacrifice, from both the franchise and fans.
The franchise has to, in all likelihood, endure a year or two of losing money as they build. It doesn't sound like a big deal to us, but when is the last time the Mariners were okay with losing money? It is a new thing from owner John Stanton, who has stated that his sole goal as the owner of the Mariners is to win a world series, and has, thus far, done exactly that.
For us, the fans, we may have to endure a few more losses like last nights. Things could get ugly for a time. It is a hard trade-off for so many to make. Patience is no longer a virtue in today's sports fan. We want greatness and we want it now.
The path was not easy. It took sacrificing players we loved for little to no immediate impact. The team sacrificed Edwin Diaz, James Paxton, Nelson Cruz, Robinson Cano, and Jean Segura to build a brighter tomorrow. And for that, I applaud them.
Yes, 2019 could be frustrating. But no loss should distract from the undeniable truth: the Mariners don't want to be good. They want to be great. Greatness wins world series. Good may get you a one-game playoff. Maybe.
It takes courage to tear apart an 89 win team and tell your fanbase with the longest postseason drought in all of North American professional sports that you aren't going to build on that. Nothing would have been easier than Dipoto keeping things status quo, adding around the fringes of the roster to try and squeak out an extra win or two. But that wouldn't have been right.
Seattle needed monumental changes. They didn't need a new roof, they needed a new foundation. And in just one off-season, they may have already found some of those pieces. Is it a guarantee to work? No. Which only makes me appreciate their decision more.
No, Jerry Dipoto and John Stanton aren't heroes. But doing the right thing when it isn't the easiest thing is a heroic act, no matter what arena you live, work, participate in.
For the first time in my fandom, the Seattle Mariners are showing the courage of their convictions. For that, I will applaud and say thank you. In exchange, the team has asked for a bit more patience. While many will not make that trade, it is a bargain I will gladly strike. Greatness takes time, and so should the Mariners.