Happy Opening Day, Mariners fans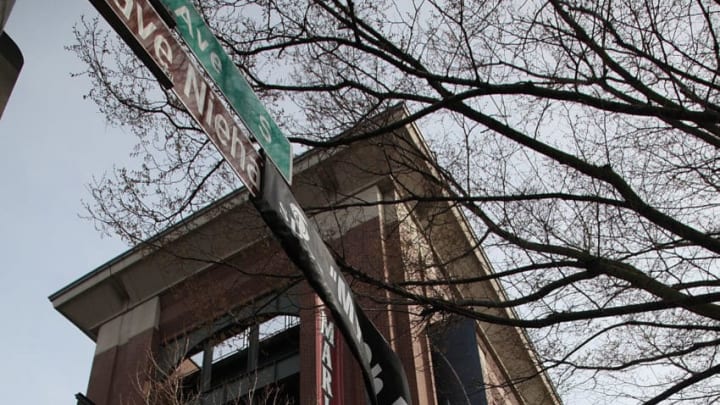 SEATTLE - APRIL 08: Marilyn Niehaus (far right) along with family members unveils a new street sign in front of Safeco Field prior to the Mariners' home opener against the Cleveland Indians at Safeco Field on April 8, 2011 in Seattle, Washington. The sign bears the name of Mariners broadcaster Dave Niehaus, who passed away last November. (Photo by Otto Greule Jr/Getty Images) /
Before the Mariners open their season later today, I would like to officially welcome back the game of baseball.
For the first time this year, I've decided to open my window. It's the early morning on Opening Day, and I can feel the crisp spring breeze start to ease its way in. There is a distinct aroma that spring carries—one that floods my mind with childhood memories; morning dew sat upon the maturing grass as birds harmonically return to their natural state.
It's the sound of my neighbors starting their cars and rounding their loved ones for the start of a new day that make the reflection complete—a reminder of the early morning routines my parents had set for me on days like today. McDonald's breakfast and an awful Now That's What I Call Music! compilation typically set the tone for my Opening Days when I played YMCA ball. It was a 40-minute drive from Grapeview to Olympia, though it felt practically endless as the colony of butterflies within my stomach initiated their annual derby.
Each emotion, sight, and sound that I've depicted are applicable to our daily lives. They aren't foreign; yet, they're almost reborn each and every spring. It can be easy to oversimplify what today makes me feel, whether it be hope or any other dully positive noun you prefer. For me, it all epitomizes the truly beautiful nature of one of my greatest loves.
Baseball.
I've often wondered how these feelings change as a player grows. Does the magic begin to wear off as you climb the ladder and the stakes change? Once your livelihood rides on the shoulders of your ability, does that love remain?
I can only relate from the perspective of a fan who's experienced the lowest of lows for 17 consecutive years, and while I have resented baseball at times, my love for it is undying. It's a love that's meant to be tested.
That's what makes Opening Day so spectacular. It repairs the countless broken hearts suffered the previous season, and replenishes them with love. It's the same love that blossomed upon first encounter with the game. And while that love may evolve over time, it will always remain true in nature.
That love has formed a bond between millions of people around the world. You see, baseball isn't just a game. It's a universal language that builds community, discussion, and camaraderie. It serves as a mentor, providing its teachings on the importance of both success and failure to the young and old. It's an art form that allows for creativity and evolution, making each and every season unpredictable and unique.
Whether you're disappointed or encouraged by the Mariners' plans for the upcoming season, today is a special day for each and every baseball fan. It's the mark of a new season that will create lasting memories at the ballpark or in front of the TV with friends and family, inspire a child to pick up a ball and mitt, and fulfill the dreams and aspirations of many.
That last part is especially true for Mariners rookies Dylan Moore and Brandon Brennan. While both took part in last week's Opening Series in Japan, this will be their first chance to stand in front of a massive crowd as a member of their beloved home team. For them, it's McDonald's breakfast and butterfly derbies all over again.
It's magic in its purest form.
I woke up this morning with a recollection of the late Dave Niehaus' voice. It was comforting and warm, just as it always was. His words were indistinguishable, and the presence of his voice was more of a feeling rather than a sound.
I think about Dave a lot, especially on days like today. I've wondered how he would have articulated the Mariners' story over the last eight years. From Félix Hernández's perfect game to Austin Jackson's walk-off against the Angels in Game 161, no one would have called it like Dave.
But as I said, baseball is a mentor that teaches you about the struggle between success and failure—the wins and losses. Though we lost Dave nearly a decade ago, hundreds of thousands of Mariners fans can still hear his voice echo in their minds as clear as day.
For us, Dave was and always will be the gatekeeper to Opening Day. And as we step forth into the latest chapter in Seattle Mariners lore, I can hear Dave utter the five of the finest words he ever spoke.