Seattle Mariners: 5 (Semi) Bold Predictions for 2019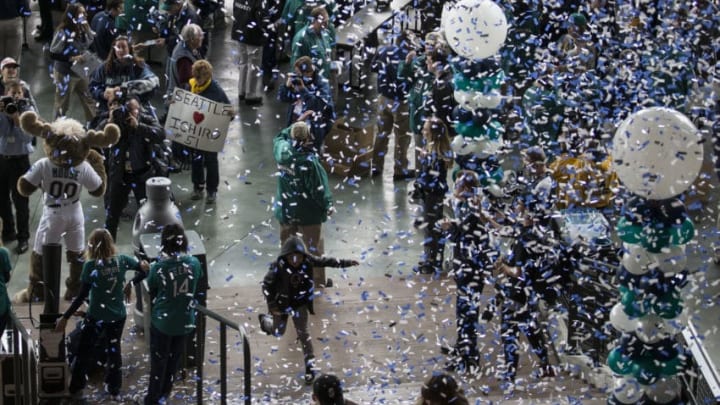 SEATTLE, WA - MARCH 29: As confetti rains down, fans make their way into the stadium before a game on opening day between the Cleveland Indians and the Seattle Mariners at Safeco Field on March 29, 2018 in Seattle, Washington. (Photo by Stephen Brashear/Getty Images) /
4. They Sell At Deadline… But Also Buy
Seattle Mariners: /
Look, we all know it, Jerry Dipoto is going to make trades. And as the teams stated goal is to compete by 2021, he will be trying to sell off veteran pieces like Edwin Encarnacion, Jay Bruce, Anthony Swarzak, Mike Leake, and possible Kyle Seager or Dee Gordon.
These things are going to happen. They are going to be shipping off big leaguers for minor league players. That isn't bold, that is as close to a fact as you can get on March 10th. However, don't get too attached to those prospects they bring in.
During an interview with 710 ESPN Seattle, Dipoto stated he was so impressed with his young talent that perhaps 2021 was "too pessimistic" of a goal. If this winds up being the case and the Mariners think 2020 is a legitimate possibility, it would make sense to immediately begin the process of acquiring players to help the team in 2020 right?
Yes and no. Does it make sense to acquire somebody who will be a free agent after the 2020 season? Not much. But a player who would be here in 2021 and beyond? It very well could. It is a topic that I have broached earlier this off-season when I suggested the Mariners could "buy low" on Michael Fulmer.
I wouldn't expect them to go after an ace or middle of the order bat. But a piece with a high-floor, 3+ years of club control, possibly a middle infielder or catcher, could make sense. Dipoto doesn't like to build through free agency, and if the team shows him enough to believe 2020 is a real possibility, making a trade for a piece could be a wise move.
As for who they might go after, I haven't the slightest idea. Perhaps they re-engage the Tigers on Matthew Boyd. Or maybe a young third baseman. We just don't know. But while the Mariners unload several veterans, don't be shocked if there is a young MLB'er calling Seattle home by August of 2019.