"Sodo Mojo Presents" Top 30 Mariners Prospects- #2 Jarred Kelenic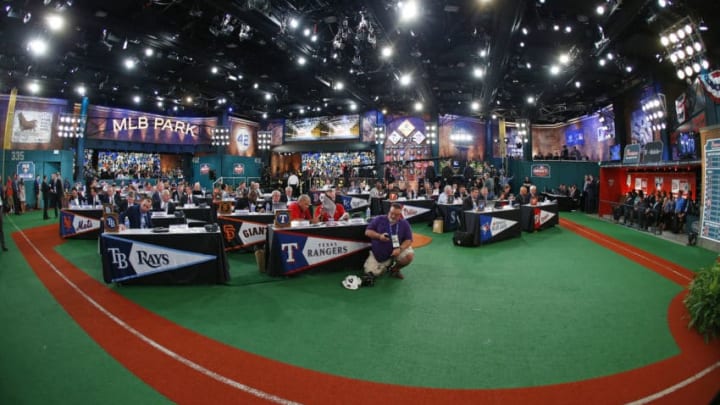 SECAUCUS, NJ - JUNE 5: Representatives from all 30 Major League Baseball teams fill Studio 42 during the MLB First-Year Player Draft at the MLB Network Studio on June 5, 2014 in Secacucus, New Jersey. (Photo by Rich Schultz/Getty Images) /
Very rarely does a prospect capture all of the eyes of Mariners fans. But after arriving from the Mets in the Edwin Diaz and Robinson Cano trade, all eyes have been on our #2 prospect.
As always, for a breakdown of our process in selecting the Top 30 Mariners prospects, read the primer by clicking here. If you want a breakdown of our first 28 prospects, you can go to the "minors" tab on the website, or click right here.
In addition, remember that our grades are based on the standard scouting scale. The scale ranges from 20-80, 20 being not MLB quality and 80 being a Hall of Fame tool. We also provide a probability score on a 1-5 scale, based on the likelihood they reach the 75% plateau of their upside. With all that in mind, let's get started.
The first thing you notice about Jarred Kelenic is his physique. At 6'1″, 200 lbs, Kelenic is an insanely buff dude, something Seattle Times beat reporter Ryan Divish has already documented in 3 pictures:
But more importantly, Kelenic has all the tools to be a superstar, the first in Seattle since Ichiro way back in the early 2000s. Kelenic's bat is advanced for his age, using a short swing to produce massive amounts of bat speed and consistent hard contact. He can hit the ball with authority to all fields and has an advanced approach at the plate for a 19-year-old.
Power grades for Kelenic are all over the map, with most agreeing he will have, at least, average power. With the swing and strength that we can already see, factoring in average growth should make the power tool plus as well.
An above-average runner, Kelenic has an aptitude to steal bases and was very successful in his first foray into pro baseball, swiping 15 bags in 16 attempts. The Mariners will give Kelenic a chance to stay in CF, where he could be solid-average. If he does need to move off the spot, he could be a plus defender in a corner.
The Mariners plan to start Kelenic in A-Ball West Virginia, but he may not be there for long. Kelenic's profile is one with a lot of helium, so if he produces, he will likely finish 2019 in Advanced-A Modesto before heading off to the Arizona Fall League.
If everything goes right, Kelenic could be a .300/.400/.500 guy with solid defense in centerfield and 20-30 stolen bases. A true 5 tool guy, Kelenic is the most likely player in this system to turn into a star.
Scouting Grades- Hit: 60 Power: 60 Arm: 60 Field: 50 Run: 55 Probability: 4/5
Jarred Kelenic was the must-have player for the Mariners in the Diaz/Cano trade and it is easy to see why. He is a relentless worker, with a high baseball IQ, with all the tools to become an absolute star.
Kelenic's floor appears to be that of an everyday regular or, at the least, a strong side platoon player. If you want to dream on one player in this system, Kelenic may be the guy. The Mariners believe they have found their Andrew Benintendi, but perhaps with even more upside.