Seattle Mariners announce 2019 Ballpark Pass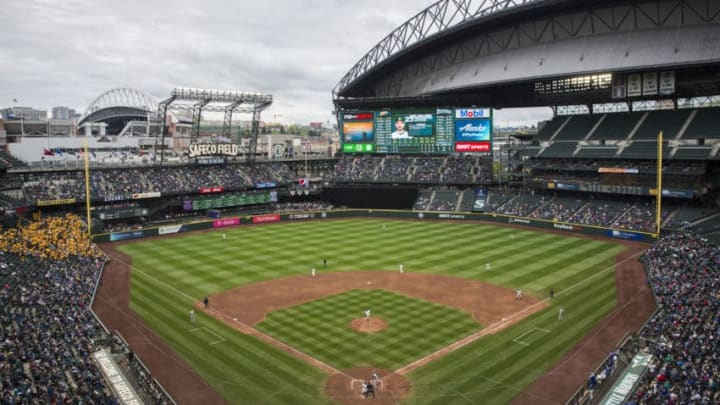 SEATTLE, WA - APRIL 15: A general view of Safeco Field as Felix Hernandez /
Early Tuesday morning, the Seattle Mariners announced the sale of a 2019 Ballpark Pass. For just $99 per month, fans can attend every home game at T-Mobile Park.
Last season, the Mariners announced a similar pass for the month of July, selling a mobile pass for all 14 home games for just $98. The offer generated an incredible response from fans, sparking a renewal for the 2019 season.
But aside from the one dollar per month increase, the Mariners approached this season's pass differently. Not only is the pass for every month of the season, it is offered through a subscription model. Fans pay $99 per month, which is renewed on the third Monday of each month.
The ballpark pass can be canceled anytime, but is not available for any single month of the season.
Likely the largest change in this season's pass is the seating arrangements. Last season, the Mariners provided pass holders with a seat in prime sections, including 100-level sections around the ballpark.
For 2019, the pass will get you in the door, but your ticket will read "Standing Room Only," meaning your time at the game will be spent in the Patio at the 'Pen, or around the main concourses.
Despite the changes, the pass brings incredible value to those who want to attend games at a reasonable price. While games can demand anywhere from 30 to 90 dollars for respectable seating, the pass can provide you with a ticket to 11-16 games a month for under $100.
Here is a month-by-month breakdown of what $99 will get you per month, with prime match-ups included:
April: 13 games (April 30 vs. Cubs)
May: 12 games (May 1 vs. Cubs, May 16-19 vs. Twins, the Return of Nelson Cruz)
June: 13 games
July: 16 games (July 2-4 vs. Cardinals)
August: 11 games (August 26-28 vs. Yankees, Edgar Martinez Weekend on August 9-11)
September: 12 games (September 10-12 vs. Reds)
The ballpark pass will go on sale Friday, March 1 at 10:00AM PT. The Mariners state that quantity is extremely limited, so make sure to grab your passes before they sell out.