Seattle Mariners: What to Expect as a Mariners Fan in 2019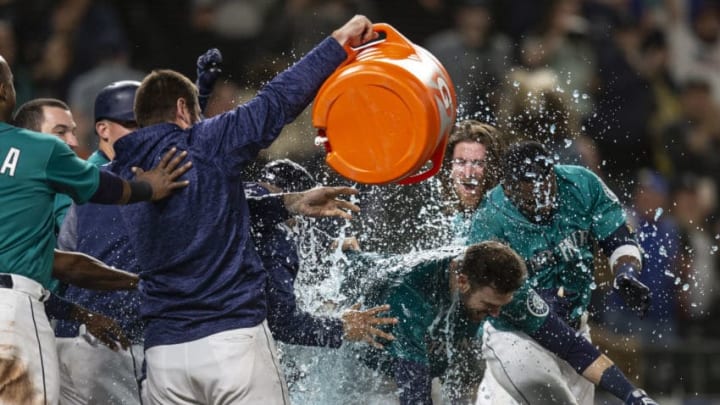 SEATTLE, WA - JUNE 1: Mitch Haniger #17 of the Seattle Mariners is doused by Gatorade after hitting a walkoff solo home run off of relief pitcherMatt Andriese #35 of the Tampa Bay Rays during the thirteenth inning of a game at Safeco Field on June 1, 2018 in Seattle, Washington. The Mariners won 4-3 in thirteen innings. (Photo by Stephen Brashear/Getty Images) /
All players have reported to Spring Training in Arizona and Florida, officially commencing the 2019 season. Congratulations, Mariners fans: we made it.
But many fans, particularly in Seattle, lack the excitement the world of baseball currently holds. Mariners fans will not watch their team with World Series hopes. Even a playoff berth seems like a long shot as the regular season approaches.
After winning 89 games in 2018, many were outraged at the organization's decision to change the direction of the franchise, stepping back in hopes of leaping forward a year later. So much so, in fact, that some will no longer show interest in their team amidst a year that currently shows no hope for a World Series title.
2018 brought a sense of magic back to Seattle baseball. 4 All-Stars represented the Mariners in Washington last July; just one remains. The team that brought back excitement and hope for a winning franchise has been dismantled.
And while several players will be missed, there will be new faces to embrace as a young, hungry team with a winning mentality will use this season to build into a contending team in the near future.
Any franchise will lose attendance, revenues, and overall support with the decision to rebuild. But the 2019 Mariners are no typical rebuild.
Dubbed as a "re-tooling" by General Manager Jerry Dipoto, the Mariners are not taking a traditional rebuilding route that lasts several seasons on average. In fact, Dipoto has stated on multiple occasions that Seattle will look to contend by 2021 and potentially earlier.
Instead of trading away franchise pieces for young talent multiple years from big-league action, the Mariners acquired immediate replacements for departed players.
Most notably, Seattle will feature 2 new outfielders, Mallex Smith, and Domingo Santana, as part of their fresh, exciting outfield. Omar Narváez, a hitting-oriented catcher, will provide a valuable bat in the lineup the position has recently lacked. Edwin Encarnacion, the veteran slugger, will serve as a short-term replacement for designated hitter Nelson Cruz.
2019 will be a season of perspective. Instead of partaking in the pessimism, how can fans enjoy a season that will likely extend a 17-year playoff drought? Here are some perspectives to take with you to the ballpark:
Our young, talented players will develop and blossom throughout the season
Despite the departures of stars like Robinson Cano, Jean Segura, and Edwin Diaz, the Mariners added young, controllable talent that looks to form a team of the future.
On New Year's Eve, reports surfaced that Seattle had agreed to terms with Yusei Kikuchi, a star pitcher from Japan's Seibu Lions. One of the most sought-after pitching free agents had become a Seattle Mariner.
Kikuchi stressed the importance of a low-pressure environment to begin his major league career. Contending teams expecting a strict schedule of a start every 5 days deterred Yusei, as he looks to adjust from pitching just once a week in Japan.
His 4-year contract can be extended to 7 years if the Mariners decide to do so, inserting him into the Mariners rotation for seasons to come.
In part of the deal that sent catcher Mike Zunino to Tampa Bay, the Mariners acquired another young star in Mallex Smith, Seattle's now-center fielder.
Smith's statistics speak for him, posting a 3.5 WAR and a .296 batting average at just age 25 in 2018. He perfectly fits the mold the Mariners hope to utilize when progressing towards a 2021 contention window.
Young players like Kikuchi and Smith will account for much of Seattle's success in 2019, bringing excitement to the present and encouragement for the future.
Seattle's farm system will be worth watching for the first time in a long time
Once considered the worst minor-league system by many outlets, the Mariners farm is now stocked full of talented prospects that could bring value to Seattle quite soon.
Though GM Jerry Dipoto focused on adding pieces to bring instant production to Seattle, he added several young players to bring sustained success throughout future years.
To put Dipoto's busy offseason into perspective, 4 of the top 10 Mariners prospects have been acquired via trade since November (including all of the top 3).
Several top prospects are just months away from making their Mariners debuts. Triple AAA Tacoma will feature top pitching prospect Justus Sheffield for the start of 2019, in addition to shortstop J.P. Crawford, who both look to develop into pivotal contributors for Seattle by the end of this season.
In contrast, Seattle's number two prospect, outfielder Jarred Kelenic, is just 19 and will begin the season in Class-A West Virginia. Before his trade to the Mariners, scouts in the New York Mets system told reporters that the Mets front office would make an awful mistake in trading him.
Now considered a Top-10 farm system, the Mariners will look to contend by 2021 and sustain a winning formula with a deep stock of young talent.
The 2019 Mariners could shock baseball and make a run at the postseason
It's not likely, but Seattle can't be completely ruled out of the postseason. Without considering Seattle's shortstop situation, it could be argued the Mariners have yet to lose considerable production at any given position.
The bullpen will be one of the biggest factors in how the season will fare for the Mariners. With a talented group of young players in the lineup, the pitching staff could win (or lose) many games for the team, potentially deciding if Seattle can snap their playoff drought that has lasted since 2001.
The 2019 Mariners will be fun – in their own way
Seattle's young core hates the idea of a "step back." The team may not ride a miracle season into the World Series, but the fan experience will be quite unique.
Don't expect the Mariners to win a World Series in 2019. Don't expect 100 wins or even a division title. But expect a young, entertaining team that will show their fanbase a reason to be encouraged for years to come.