Seattle Mariners: 3 Bold Predictions for 2019 Trade Deadline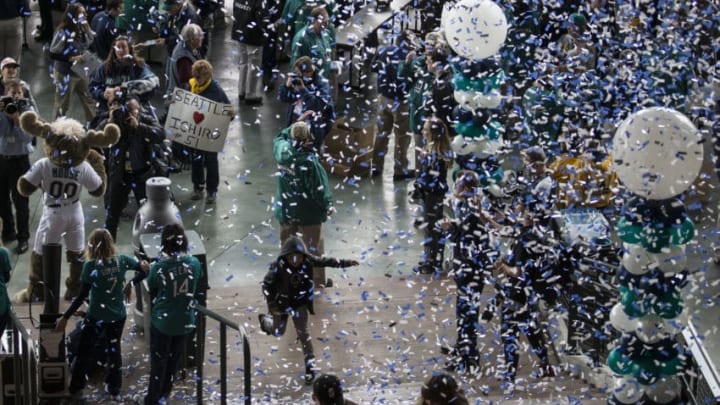 SEATTLE, WA - MARCH 29: As confetti rains down, fans make their way into the stadium before a game on opening day between the Cleveland Indians and the Seattle Mariners at Safeco Field on March 29, 2018 in Seattle, Washington. (Photo by Stephen Brashear/Getty Images) /
3. The Mariners Will Make One Splash Trade in July
SEATTLE, WA – SEPTEMBER 30: GM Jerry Dipoto of the Seattle Mariners looks on from the dugout prior to the game against the Houston Astros at Safeco Field on September 30, 2015, in Seattle, Washington. (Photo by Otto Greule Jr/Getty Images) /
To clarify, this "splash" trade will be of a "buying" nature. I believe the Mariners will be relevant enough in June and July to give some of us hope that maybe they can be this year's Oakland A's. The AL is still down and right now, the roster isn't bad. They'll be competitive.
However, even if they are in this position, Dipoto won't be shelling out big prospects for rentals. However, what he could do is add for 2019 and beyond. He already poked around this idea earlier this off-season, looking at a potential add opportunity in the form of Tigers RHP Michael Fulmer (click here for the article).
Basically, any acquisition would need to be club controlled at least through the 2021 season. But if the Mariners are indeed on the fringe of the wild-card race, adding a controllable big leaguer serves two purposes.
First, it will energize the fan base. Seeing a team in a playoff race can make any fan excited, almost regardless of the player, they will actually acquire.
Second and most importantly, it can accelerate your timeline. Adding the right piece in a trade this July can attract free agents in the winter, and all of a sudden, your 2021 goal may be feasible in 2020.
I cannot tell you who this player is, or what it would cost. I would venture to say that 2 prospects are as close to untouchable as Dipoto will ever admit, Julio Rodriguez and Jarred Kelenic, but that everybody else will be available.
The player won't be a young star, but a package around Kyle Lewis, Shed Long, or Logan Gilbert could net them quite a player. Or perhaps the swap is more of a prospect-for-prospect trade like Tyler O'Neill for Marco Gonzales type.
I believe the Mariners are good for 1 "out of left field" trade this off-season. To the national media, they'll be crazy for giving up prospects for a big leaguer in a rebuild. But for the rest of us, we will know it is exactly what this franchise needs.
As stated before, we have no idea what is going to happen in July. Could Mitch Haniger get traded? Yes. Could Encarnacion sign an extension? Sure. But bold predictions usually require some boldness to earn the title. Making these predictions 5 months before they are reasonable seems bold to me.
Will any of these things happen? Maybe. Could none of them happen? Absolutely. But as we wait for the snow to melt and pitchers and catchers to report, let's dream a little and have some fun.